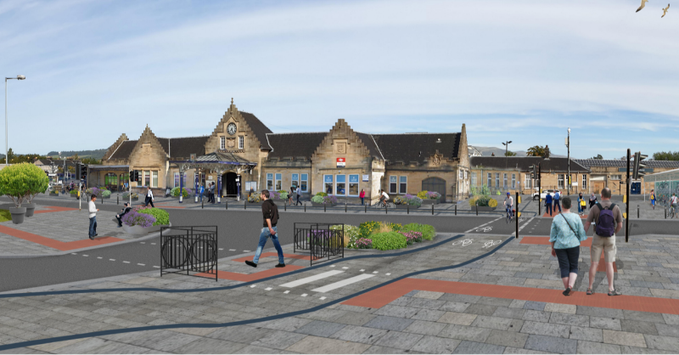 LUDDON Construction is to lead the £5 million redevelopment of Stirling Train Station, ScotRail has announced.
The project will see the creation of a 'cyclepoint' with 150 additional cycle parking spaces and a small maintenance area; improvements to the setting of the station via the creation of a pedestrianised plaza; and a refurbishment of the station entrance canopy.
Furthermore, work will also be undertaken at the station forecourt – with a replacement of the roundabout on Goosecroft Road with a T-junction and a new car park entrance, with waterproofing works will also be undertaken on the existing bridge top deck in anticipation of the forecourt works.
ScotRail said the works will bring a reduction in the amount of traffic in front of the station, with taxis and general traffic set to be removed. Furthermore, it promised improved active travel links to the city centre and wider Stirling area, such as the university campus via proposed new cycle routes.
The Glasgow-headquartered firm is set to begin works in June 2022, with ScotRail anticipating the project to be completed in April 2023. The organisation added that the development ties in with Stirling Council's walk, cycle, live Stirling scheme which aims to provide better active travel options for residents and visitors.
Allan Randall, Luddon Construction joint MD, said, "We are delighted to be appointed on this Stirling Station Gateway project and to continue our working relationship with ScotRail. Our focus is on creating an enhanced space for pedestrians and cyclists and an improved environment for sustainable transport options.
"With over 45 years of experience undertaking similar projects in a challenging environment, our team will deliver the works whilst maintaining a fully operational station. We look forward to continuing to work with the local supply chain to deliver this key project in the redevelopment of Stirling Station."
David Lister, ScotRail safety, engineering and sustainability director, added, "The appointment of Luddon Construction is a key milestone in the project to redevelop Stirling station and the area around it. Once completed, the work will make a hugely positive contribution to providing safe pedestrian and cycle friendly areas.
"It will also help promote train travel as we continue with our commitment to delivering better environments for sustainable transport options."