LYNDON SGB's mechanical access hoists brand – Taylor's Hoists – has started its first ever contract in Scotland, at the University of Glasgow's new Health and Wellbeing Centre, for client Multiplex.
Multiplex has been appointed as the main contractor and programme delivery partner on the University of Glasgow's campus development programme. The development is intended to create a vibrant learning and research campus that is woven into the urban fabric of Glasgow's west end, building on the university's legacy and positioning it as a 'world-changer' in international higher education.
Lyndon SGB  – which employs more than 1,100 staff across the UK – has owned Taylor's Hoists since April 2017 and has been operating 'hybrid access' contracts together since 2009, offering scaffolding alongside hoists and MASTCLIMBERS.
They work together on some of the UK's top construction and infrastructure projects with many main contractor clients, including Balfour Beatty, Kier, Clearline and Lendlease – most prominently and recently on the £330 million refurbishment of the Grade 1-Listed Manchester Town Hall project #OurTownHall, including some 10 hoists, 200+ scaffold structures, 10,000m2 of weather protection, access platforms totalling 22,000m2, and multiple combined scaffold staircases totalling 450m in height – enough to reach the top of the Empire State building (448.7m)!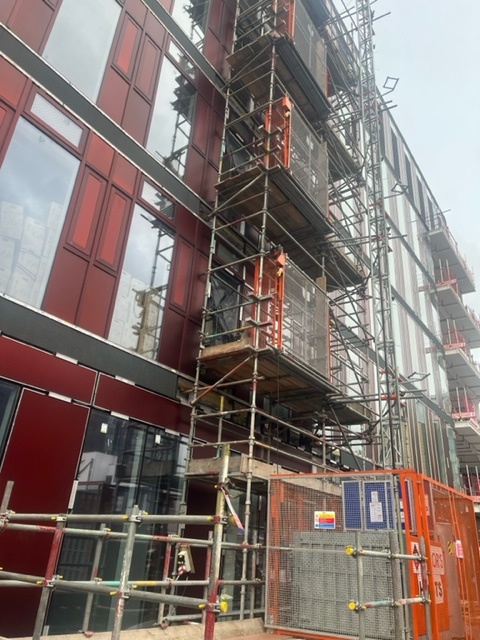 Despite being smaller than the epic Manchester Town Hall, this project at Glasgow University for Multiplex is a milestone – as it represents the first collaborative effort between the well-established Lyndon SGB scaffolding and access name and Taylor's Hoists, who have never worked north of the border before now.
The 20-metre, 1000Kg capacity hoists – the newest hoist in the Alimak range, the TPL1000, which is tied to the scaffolding in this instance – will offer access through the windows of the new building project on four levels and work with the Lyndon SGB scaffolding on-site.
New Lyndon SGB mechanical access director and MD of Taylor's Hoists, Paul Price, explained, "It is great to be delivering our first project in Scotland here in Glasgow for Multiplex and to be working in conjunction with Lyndon SGB to deliver our hybrid access solutions for the client on this prestigious Glasgow city project.
"And it's also exciting to be using Alimak's latest hoist in its fleet – which we own the largest fleet of in the UK. Here's to a safe and successful project together and lots more in Scotland."