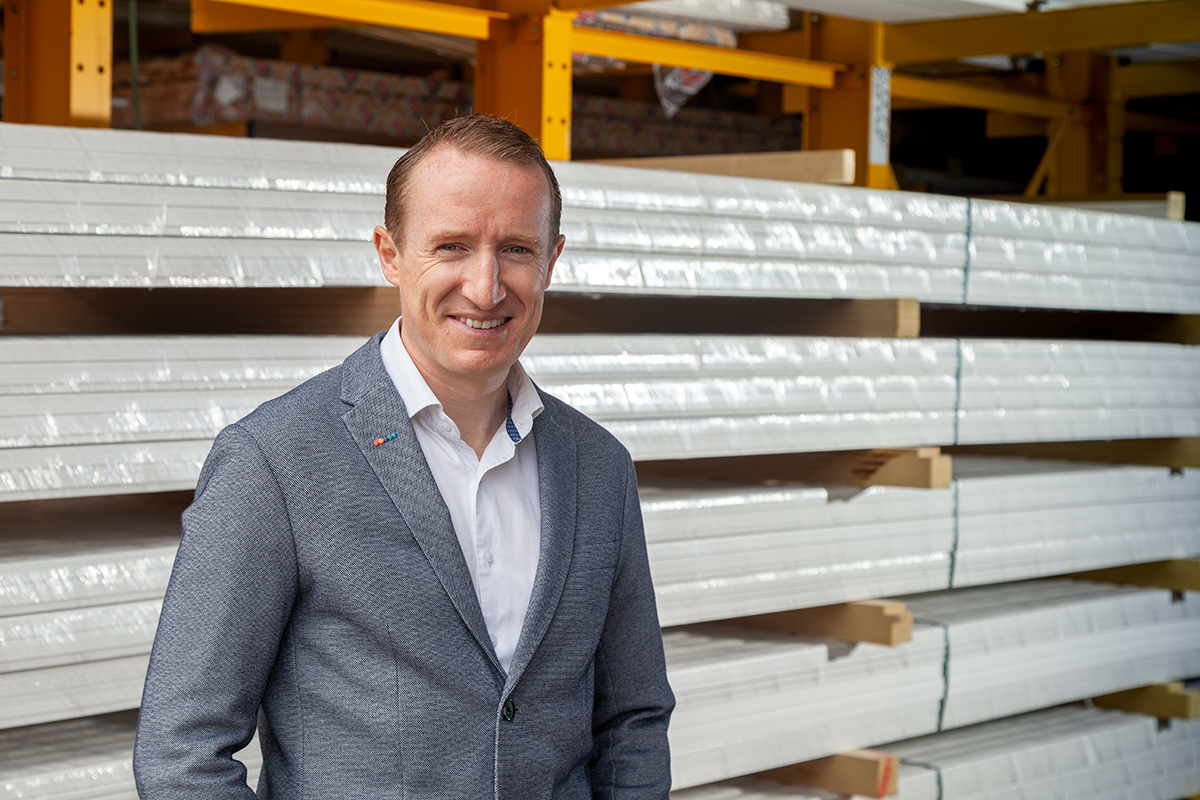 The Donaldson Group announced at the end of 2021 it had entered the timber frame market with the acquisition of Stewart Milne Timber Systems. Group CEO Andrew Donaldson recently answered Project Scotland's questions about the impact the move will have and the opportunities which exist for the business within the thriving sector.
Q) What prompted the decision to buy Stewart Milne Timber Systems (SMTS) and what have been your early impressions of the business?
A) In the summer of 2021, we developed and completed our five-year strategic plan for the Donaldson Group, and part of this was an ambition to grow the business through an organic and acquisitive growth strategy. Timber frame was top of our list for new areas to explore – mainly because we recognised the importance of timber frame in meeting the sustainable housing agenda, and also because it is a natural next step for us as a Group.
As we move further towards low and zero carbon homes, the need for innovative offsite manufacture increases. Timber build systems offer the flexibility and efficiency to deliver offsite housing, meeting sustainable and cost benefits for both developers and consumers. Timber offsite is a good strategic move to grow our business for the long term.
We certainly didn't expect that within six months we would be the largest timber frame manufacturer in the UK. However, the opportunity with SMTS arose and it was a perfect fit for both the Group and for SMTS.
We're only a month in, but our experience of the business so far has been extremely positive. SMTS is a highly professional organisation, it's well run and many of the team are leading experts in the UK timber frame industry.
They've all been very welcoming and positive, and there's been real excitement from both sides about SMTS joining the Group.
Any business that is at the forefront of its industry has a responsibility to drive innovation, industry leadership and professionalism in the market, and we can really see that in SMTS.
Q) What impact do you expect the move to have on the overall Donaldson Group?
A) The move has prompted us to expedite the plans that we were working on regarding structure and synergies within the Group. Work is still underway on this, but there will be much more of a concerted focus on offsite construction as a business, and the individual parts of the Group will be working together to promote modern methods of construction (MMC).
Timber frame is the most prominent of all MMC methodologies. Based on the two key principles of efficiency and quality, MMC involves the manufacture and pre-assembly of components, elements or modules before installation into a final location. We'll be looking into the opportunities that MMC can provide the industry as a whole – whether it's timber frame, door sets, timber-engineered products or stair manufacture – and which parts of the Donaldson Group can help to support the development of MMC across the housebuilding market in the UK.
The demand for offsite timber solutions is growing steadily and there is a need to increase the capacity in the supply chain to provide the housing numbers the UK needs for the future.
Securing the expertise and market leading position of SMTS provides the Group with the opportunity to be at the forefront of this industry. This acquisition ensures the Donaldson Group is by far the largest provider of timber offsite solutions and engineered products in the UK.
We now have the opportunity and the expertise to provide an increase in capacity through investment in the factories, and to develop more innovative product solutions. In turn this will give our clients the confidence that we can support them to deliver a greater volume of low carbon homes to the market.
The Donaldson Group can now offer existing SMTS clients a wider choice of products – providing them with a one stop shop for their entire timber structure – and can deliver in a more streamlined manner. We can also offer current Donaldson clients a new and exciting range of products combined with expertise in cost effectively meeting new and future building regulations.
Internally, the move also offers new opportunities for the team being part of a bigger Group, with potential career progression within one Donaldson family.
Q) All the SMTS staff, including senior management, have moved over as part of the acquisition. How important was that to ensuring the continued success of the business?
A) It wasn't just important; it was an absolutely integral part of the acquisition. It's fair to say that SMTS has one of the most – if not the most – experienced senior management teams in the industry. They've consistently delivered against their strategic growth plan for SMTS and have been instrumental in helping to develop the industry over many years.
Not only do we have a new business that we believe will continue to grow successfully, but we have an experienced group of individuals located across the UK that can support growth and innovation right across our Group for the long term.
Alongside the continued success of the timber systems business, keeping the senior management team on board brings benefits for the wider Donaldson Group, as we can learn from each other and share best practice across the business. It's an exciting time for us all.
Q) What are the challenges of integrating an already established business into a different group? How do you intend to overcome those challenges?
A) The offsite timber frame industry was a natural progression for our business. Both the Donaldson Group and SMTS have a number of existing similarities. We're both privately-owned, long-standing, Scottish family businesses, which means we have the same kind of background and outlook, as well as a similar culture with a real focus on colleague wellbeing. It already feels a comfortable, familiar fit; whether you're in Westhill, Witney or one of the original Donaldson sites.
SMTS is already a successful business, and leader in its sector, so we're not trying to assimilate SMTS or merge two businesses. We recognise that individuality within our Group offers new opportunities, and we want to support and enable our teams to deliver success. Our Group purpose is to nurture and empower, so our role is to allow SMTS to do what they've always done and support them to flourish further as part of the Donaldson Group.
It's early days but we can already see a positive energy and a willingness to share and learn – and this goes both ways, as it's a good opportunity for us to create an even better and stronger Group.
Q) What are your views on the timber frame market at the moment and the potential opportunities that exist in both the short and long-term?
A) The post-COP26 timber frame market is a very exciting place to be, with an increased focus on sustainability and meeting net zero targets.
As the only renewable building material, there has never been a more crucial time for utilising timber in construction and for delivering more innovative build systems through offsite manufacture.
Rising construction costs, increasing housing demand and the significant skills shortage provide a catalyst for new and more innovative building solutions.
Timber within an offsite building system provides that solution and is a material that is recognised and valued by both house builders and consumers.
Our opportunity here is to promote the inherent values of offsite timber frame to both new and existing clients. Working in partnership with our clients, we can successfully convert their traditional approach to a cost effective and sustainable method of home building.
Q) How closely aligned will the new timber systems business be with the other group companies? Will clients see any benefits from the enhanced portfolio?
A) We plan to develop an offsite manufacturing division within Donaldson Group that will bring together our expertise in timber construction, leveraging our business experience and product breadth for the benefit of both current and future clients.
While the three businesses that will form this division will continue to operate as individual businesses with their own leadership teams, they each have strengths in the market that when aligned, will bring real benefits to our clients. The experience we now have in this sector will help us to spearhead further product innovation and drive offsite manufacturing, while providing the highest quality products and service offering.
Our combined knowledge will be unique in the market and our solutions approach to clients' projects in both housebuilding and commercial sectors will set us apart.
This is the perfect time to bring together a market leader in offsite timber build systems with our timber engineering business that combined, can deliver an experienced and innovative team to work in partnership with our client base.
In a nutshell, this has been a superb move for our Group, bringing a division that is right at the forefront of current housebuilding techniques and one that sets us up well to capitalise on developments in our industry in coming years.