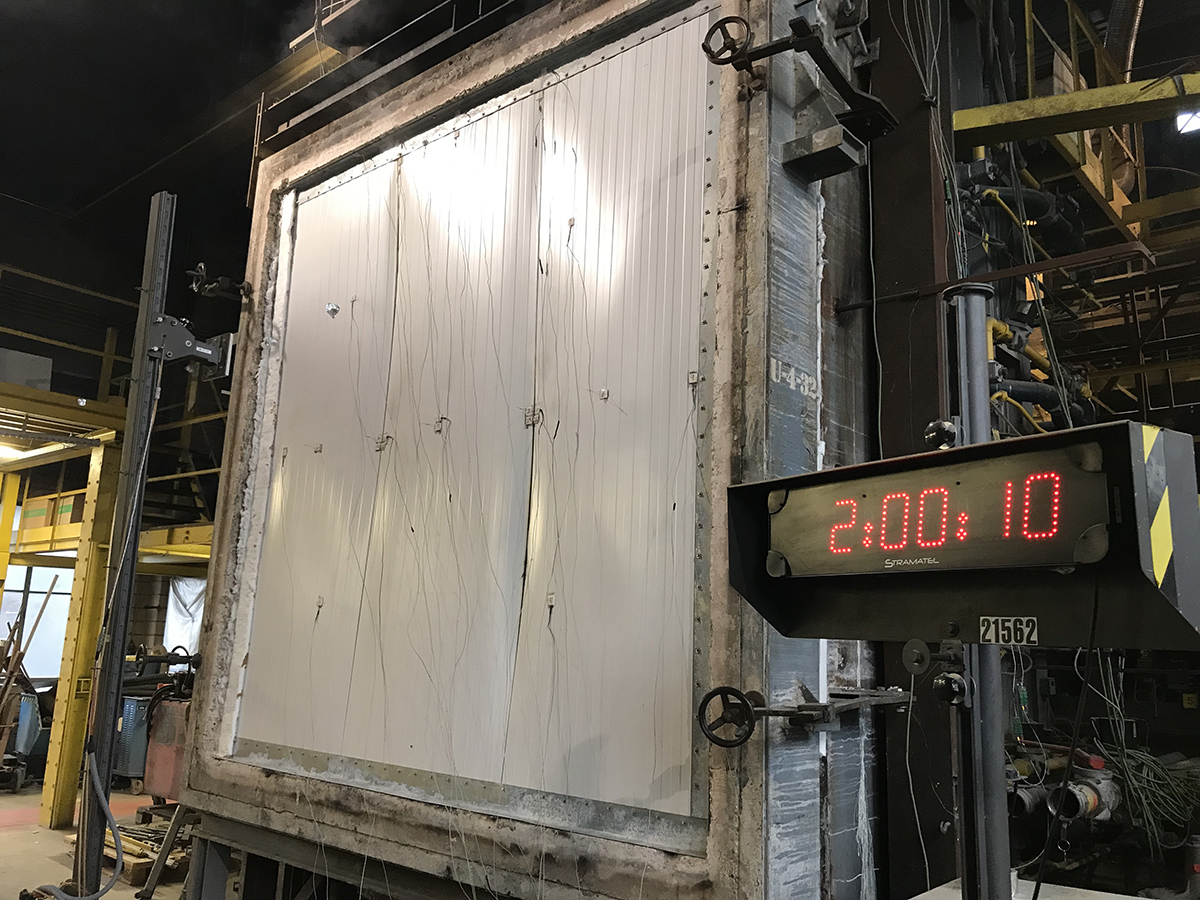 This article contains paid-for content created in collaboration with Kingspan
The latest development of Kingspan's unique, self-blended insulation technology, 'QuadCore 2.0', demonstrates that innovation and product performance enhancement do not need to come at the sacrifice of our planet.
QuadCore 2.0 is made with a formulation containing a raw material that uses 40% recycled PET. This innovative formulation has satisfied the requirements for a two-hour fire resistance in third-party fire tests for both insulation and integrity — making it the first closed cell insulated panel system to ever achieve this rating.
QuadCore 2.0 is a key step towards one of Kingspan's Planet Passionate goals to ensure Kingspan recycles 1 billion PET bottles by 2030 and for QuadCore Technology to utilise recycled PET by 2025. The EN1364-1 fire resistance test was conducted by WarringtonFire using our next generation QuadCore 2.0 with 220mm thick, 1000mm wide coldstore, through fix insulated panels, satisfying the requirements of EI 120 and obtained without the need for stitching screws to secure the panel joints. During testing the furnace reached a temperature in excess of 1000'C.
Mike Stenson, Head of Innovation commented on the breakthrough: "Since its launch in 2016, our QuadCore Technology has been at the forefront of closed cell insulation innovation, with an unrivalled combination of thermal efficiency, fire performance, environmental credentials and warranty offering. Within our innovation and chemical development teams we are continuously striving to take each of these performance factors to the next level, creating an insulation technology truly designed with future building performance in mind.
"The inclusion of recycled PET as a raw material in our formulation is a key objective for us globally, as we work towards a more circular approach, with our new breakthrough significantly enhancing performance. The expertise in blended chemical systems available to us following the acquisition of Synthesia in 2017 has helped to make this step change in both sustainability and fire performance possible- as this EI 120 test result shows."
The QuadCore 2.0 insulated panel range is currently going through a further rigorous testing and certification programme, including reaction to fire and various insurer backed standards. Once completed, the first products containing the new core are expected to be ready for market in 2022.
What is EI 120?
Fire resistance is a measure of how long construction assemblies can withstand and contain a fire.  The measurement is expressed in Integrity (E) which is the ability to withstand fire exposure on one side whilst stopping the passage of flames and hot gases through to the unexposed side for a period of time, and Insulation (I), the building element will also be able to stop the passage of heat through to the unexposed side up to a maximum non-fire side surface temperature value for a period of time. EI 120 means that the product provides certified integrity (E) and insulation (I) performance for 120 minutes.