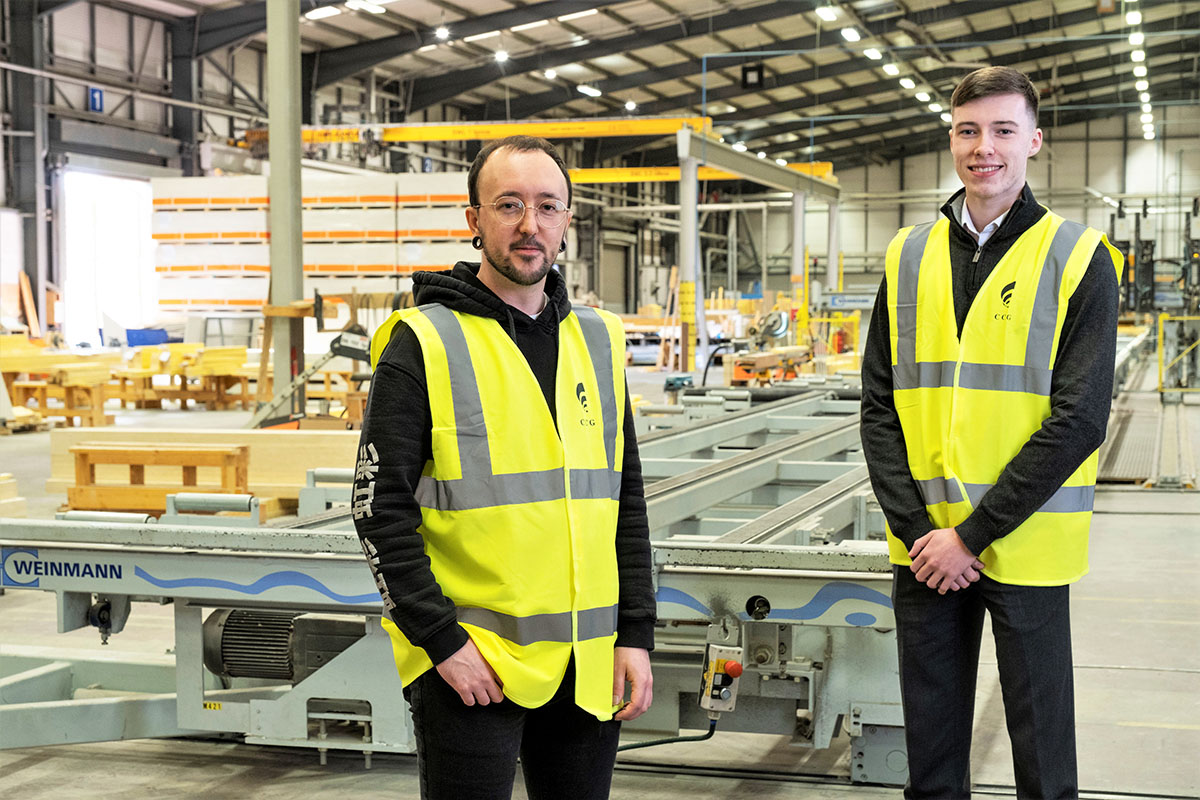 CCG (OSM) has kickstarted its 2022 recruitment drive with the appointment of two new trainees.
Based in Glasgow, OSM is a division of the CCG (Scotland) Group. The firm employs over 120 people, with new recruits Stuart Hunter (29) and Greig Barnstaple (19) set to undertake training programmes in timber frame design and quantity surveying respectively in offsite manufacturing.
In the case of CCG OSM, entire walls integrated with windows, doors, insulation, and linings, are completed in the firm's factory setting before being transported to construction sites, principally supporting CCG's delivery of over 1,500 homes annually as well as care accommodation for the elderly, nurseries and schools.
CCG OSM director David Crawford said, "The Scottish construction industry has evolved greatly over the last 20 years and the CCG Group has been at its forefront. With impending changes to building standards and our move to become a net zero economy by 2045, further evolution is ahead of us and offsite construction methods will be vital in reaching the necessary, enhanced levels of performance and quality for new build construction.
"The modernisation of construction practices also goes in hand with our industry's approach to skills replenishment and development. Offsite is a scientific, technological process so there is a great opportunity to attract new talent to the industry as the market for this form of construction continues to grow.
"Skills replenishment and training is a key element of the CCG Group's ethos and the appointments of both Greig and Stuart are examples of how we are continuing pioneer offsite in Scotland. I'm delighted to welcome them both to our business and look forward to seeing how they progress over the coming years."
Alongside the divisional recruitment drive across the group of companies, CCG revealed it will also embark on its latest apprentice intake this spring with a call for applicants set to take place during Scottish Apprenticeship Week in March.