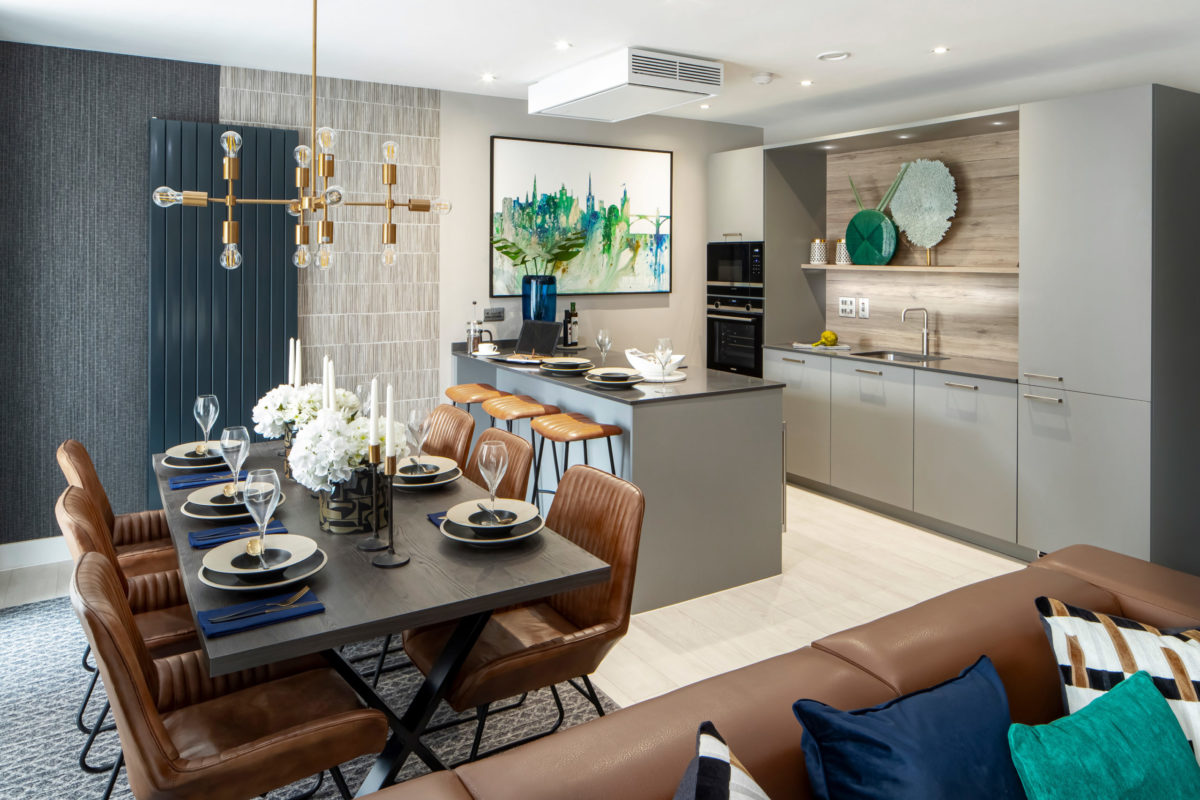 Showhome design is a constantly evolving art form. Here, Queensberry Properties' sales and marketing director, Hazel Davies, speaks with Suzanne Thomas of Blocc Interiors, about how to ensure new-build homes have a cutting-edge appearance.
By its very nature, interior design never stands still. The industry's ongoing quest for new trends and influences is reflected in concepts like Pantone's colour of the year, and the regular renaissance of historic decorative trends. If your 1990s house still has dado rails, there's no need to chisel them off the walls – along with picture rails, they're officially back in vogue.
At the same time, effective showhome design has to do more than simply highlight this year's must-have decorations. That's especially true since a well-presented showhome might be expected to deliver several years of service with only minor revisions. It needs to signpost optimal roles for specific rooms, or demonstrate how open-plan living can be multifunctional. It's also got to appeal to a diverse audience, many of whom won't know or care about fashionable décor or on-trend colours.
A passion for fashion
"January often heralds a distinct evolution in design trends, and 2022 has been no exception" says Suzanne. "The trends for wall panelling and paint colour blocking have been the biggest for us. Wall panelling and framework panelling are very much back in vogue, as is creating geometric patterns using MDF stripping." She also cites dado and picture rails as being "very effective ways of giving a room grandeur."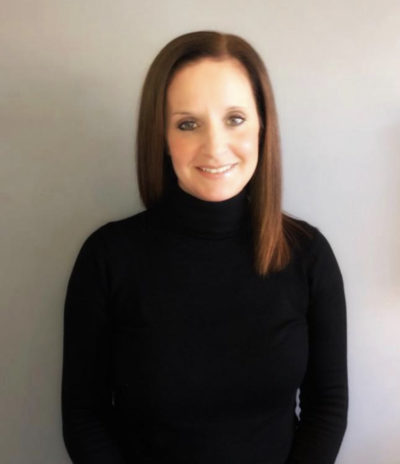 According to Suzanne, a number of different interior design styles are likely to dominate in 2022. "Japandi style is the intersection of Scandinavian and modern Japanese interior design styles. Both are rooted in minimalist design principles, with a focus on warmth, natural elements and muted colour palettes." This will happen alongside renewed interest in bringing the natural world indoors: "We will see green and natural tones blended into our interiors through the use of plants, wood, stone and terracotta. There will also be a nostalgic dip into our design past, with elements of 1970s and 80s interior design starting to make a comeback this year."
Post-pandemic presentation
Perhaps inevitably, the pandemic has played a role in evolving room layouts and furniture choices, especially given the dramatic changes in working patterns. "Incorporating the 'working from home' space into our designs has become very relevant," says Suzanne. "However, dual-function design will no longer cut it this year, such as makeshift home office setups at the kitchen table, or sitting on our beds to get away from the kids. We are embracing the trend towards hybrid working, and this will necessitate a move to a more evolved work space." The use of folding desks and foldaway shelves which serve as auxiliary workspaces has increased in recent years, while floating shelves also provide minimalist storage.
Minimalist style has already been identified as a leading interior design trend for 2022. Also inspired by the pandemic, this global fashion dovetails neatly with the growth of upcycling and eco-friendly manufacturing. "Sustainable design is linked to sustainability in terms of the materials we use and the brands we shop from," Suzanne points out. "Domestically sourced solid wooden furniture is timeless – equally suitable for lounges, bedrooms and those all-important home offices".
The light fantastic
Lighting is an often overlooked area of interior design, yet well-chosen illumination plays a huge role in creating a welcoming showhome environment. Effective lighting demonstrates how spaces might best be used, such as an Anglepoise lamp on a side table indicating a potential reading nook. Table and floor lamps help to make a room feel homely, while kitchen pelmet lighting and illuminated bathroom cabinets will always be turned on during viewing hours.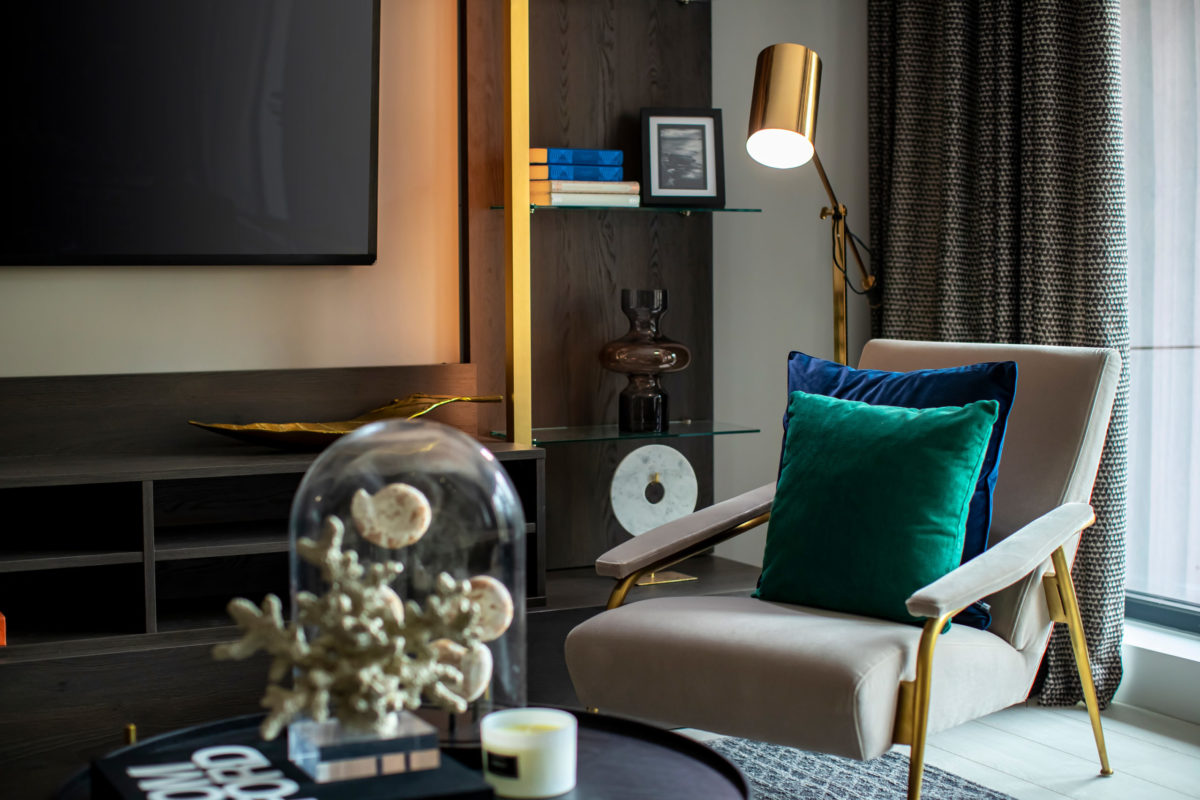 "Lighting helps to create the mood and feel of the house," says Suzanne. "I'm always talking to my colleagues about hallways with no natural light, and needing to have lighting with sufficient output. Entering a dark house can instantly give you a bad first impression. I always prefer to use warm white lighting over cool white as it automatically feels more welcoming." With buying decisions often made within seconds, those first impressions are especially important as people prepare to make the biggest purchase of their lives…