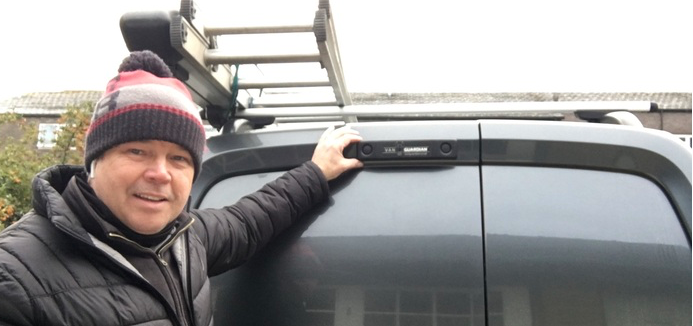 A plumber has come up with a patented zonal-based alarm system to protect vans from thieves.
The self-employed Yorkshire-based tradesman spent two years developing the Vanguardian concept, after suffering a spate of break-ins over his 30 year career.
Described as an 'all-round system', the plumber said it takes five minutes to install using waterproof high-bond contact adhesive tape.
It works to protect the most commonly targeted risk zones of a van – such as doors, locks and roof racks carrying ladders and pipes.
The device is designed to be seen on the exterior of the vehicle to provide an immediate deterrent. Once the alarm is activated, a two-second 110 decibel alarm ensues.
If contact continues within ten seconds, the alarm will activate for 30 seconds before resetting itself.
Michael Horsfall, plumber and creator of Vanguardian, said, "Factory-fitted alarms or devices that fit inside the vehicle are either ineffective because they cannot be heard or they only work after the doors have been forced open and damage has been done, and tools at risk from a swift hand and gone.
"The Vanguardian instead provides at first a visible deterrent that if ignored activates an alarm upon sensing first contact, before damage is done and before the doors are open. This gives van owners an early warning and motivates the thieves to move on or risk been confronted."