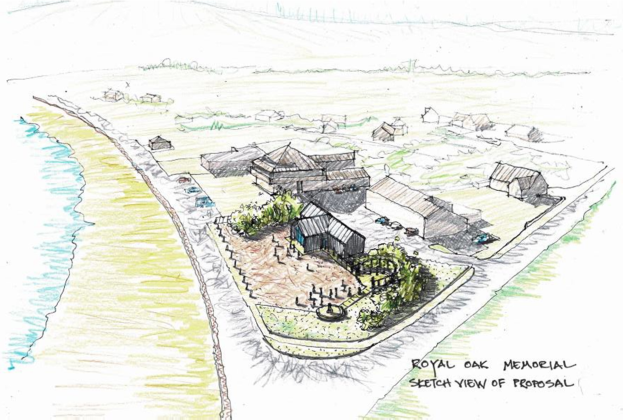 PLANS have 'moved forward' for the build of a purpose-built storage area at Orkney Harbours featuring an up-to-date display and exhibition area for HMS Royal Oak and Scapa Flow and memorial garden.
Councillors at the Orkney Island Council Harbour Authority gave the £500,000 proposal their support, recommending that plans progress.
Members heard that in developing the project, marine services worked alongside other council services, the HMS Royal Oak Association and the Royal Navy, with 'very positive' comments and reactions and it is intended that this collaborative approach be maintained as the project progresses.
Jim Buck, head of marines services and transportation and harbour master, said, "The existing building which contains a storage area used by the Harbour Authority and a display for HMS Royal Oak is well over 40-years-old and has design features that cause problems with efficient roof drainage which in turn causes issues with the wooden structure. In effect the existing building is coming, fairly rapidly, to the end of its useful and economic life.
"The majority of the existing building is used by the Harbour Authority for the storage of essential equipment and items used by Counter Pollution and Marine Environmental staff. The remainder is a display area for HMS Royal Oak which we propose would be extended to include the history of Scapa Flow.
"The site is fully owned by the council and is effectively split between the General Fund, held under Education, Leisure and Housing, and the Harbour Account. Subject to approval, it is proposed that the whole site, including the existing building, is transferred to the Harbour Account to allow this project to proceed.
"The building will be on the same site as the existing premises at Scapa and benefit from a newly laid out and landscaped memorial garden in order that certain areas can be used for benches and plaques, keeping an area towards Scapa beach where public events/services could be held."