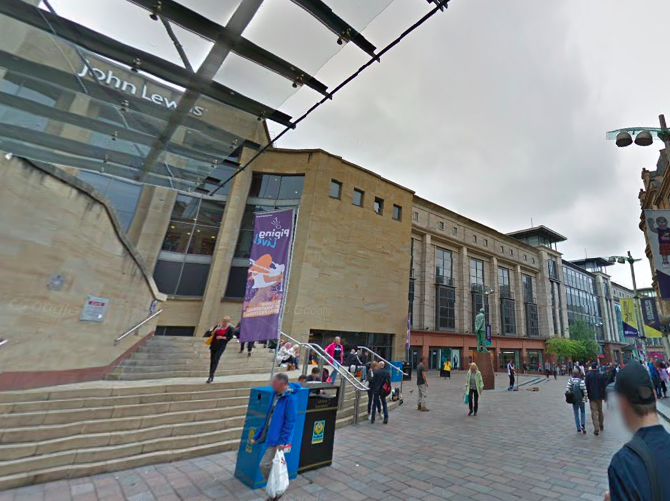 GLASGOW City Council has announced it is to enter negotiations on the proposed redevelopment of Buchanan Galleries into a new mixed-use quarter.
The proposals, from Landsec, would see the shopping centre make way for a net zero development – delivered through a decade-long project between 2023-2033 – featuring mixed-use retail, office, leisure and residential quarter.
Glasgow City Council said the initial proposals respond directly to the national climate emergency agenda and also align with its own city centre strategy – which champion a move away from mono-use zones in favour of multi-functional experiential infrastructure and planning uses that would provide a more 'sustainable and resilient' outcome for Glasgow.
It added that it is considering the use of tax incremental finance (TIF) to support some of the major enabling works that would be required for the proposals to be delivered. This would include a proposal to construct a capping over some, or all, of the north cutting of the railway line at Queen Street Station to create a platform for either a building or a public space, in addition to public realm works in and around the area. Progressing the cap will require Landsec to obtain consent from Network Rail, and discussions for this have commenced.
As the development will surround the void above Queen Street Station, the council said there is a 'unique' opportunity to create a new and exciting public space in the heart of Glasgow city centre. In Landsec's view, this forms an important component to the masterplan as it activates public space that could not otherwise be meaningfully, or viably, developed in the future.
The council said this element of the plan will act as a 'catalyst' to significantly improve access across the city centre, create high-quality active travel routes and boost linkages to Queen Street Station and other public transport hubs.
Landsec also believe that this is essential to the delivery of comprehensive and successful placemaking, with a range of uses, accommodation and public spaces that maximise the socio-economic and environmental opportunities and viability.
There is also an opportunity to improve the area around the Concert Hall steps at the top of Buchanan Street to allow for the physical reconfiguration of Buchanan Galleries, enhance the new streetscape, and deliver a more connected and permeable scheme resulting from the creation of improved pedestrian linkages between Buchanan Street and Killermont Street.
The council added that there is also the potential to provide disabled access from Buchanan Street and to create a new pedestrian link from Buchanan Street to Killermont Street, Buchanan Bus Station and Glasgow Caledonian University. However, any development of this area will reflect the history of this space as a resting point, and an area for event activity, protesting and other public activities, and would increase the overall space for public use through the physical reconfiguration of the existing Galleries' footprint.
TIF is a financial mechanism promoted by the Scottish Government through a series of six pilot projects, one of which was the earlier Buchanan Galleries TIF in Glasgow. TIF allows for a local authority to borrow over a 25-year period to deliver enabling works in the form of new and enhanced public realm and community infrastructure, creating an environment that will leverage new private sector investment and in turn deliver additional non-domestic rates (NDR) from the consequent development activity. The financial mechanism allows for the local authority to retain the additional NDR generated by this development to repay the TIF loan.
Councillor Susan Aitken, leader of Glasgow City Council, said, "Glasgow, like town and city centres everywhere, is facing significant and accelerating structural changes. These initial proposals detail a response to those changes, ensuring Glasgow has a vibrant, successful and evolving city centre which continues to be the envy of our peers.  Approval for the commencement of negotiations with Landsec would allow us to push ahead with addressing oncoming challenges and opportunities in this rapidly changing world.
"A 21st century city centre delivering on Glasgow's international standing and ambitions means more mixed-use developments, a greater residential population, more public spaces, sustainable transport options and more people-focused streets. The transformation of the Buchanan Galleries can be a vote of confidence on Glasgow's future."