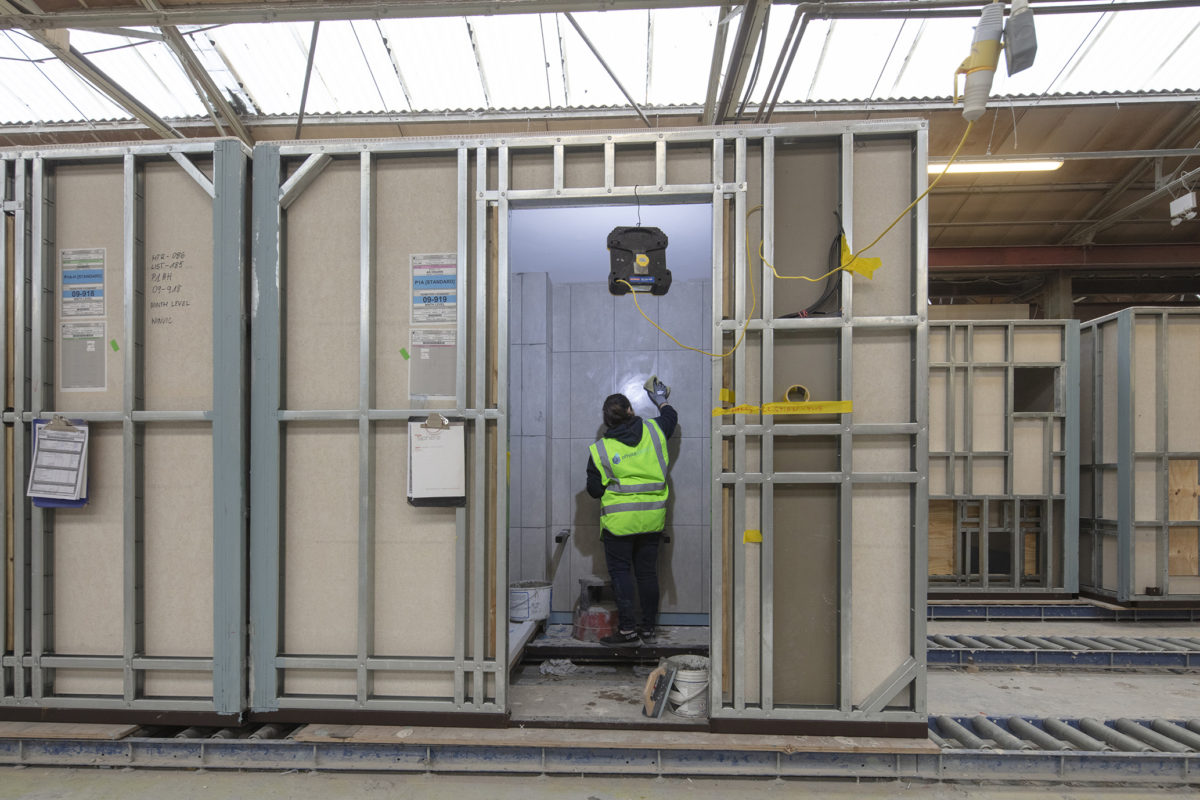 James Stephens, managing director of bathroom manufacturer Offsite Solutions, shares 15 practical tips for specifying factory-built bathrooms.
1. Visit the factory
Review quality control procedures, financial stability, and design and project management expertise. Talk to past customers as part of your procurement process.
2. Engage early
For optimal efficiency, early engagement is essential, and pods should be designed into the very first stages of a construction project. This will reduce the likelihood of interface and connection issues with M&E services.
3. Decide on your pod type
Pod technology has advanced in recent years and there is now a wider range of options than ever before. The most commonly used pods are:
Steel-framed pods – for porcelain-tiled finishes and a high level of design flexibility. Applications include large-scale apartments, built-to-rent schemes, student residences and hotels.
GRP pods – lower capital expenditure and easy to maintain and clean. Widely used for student accommodation, social housing and hospitals – and increasingly, build-to-rent.
New innovations in pod technology include hybrid concrete/steel pods for high specification wet rooms and luxury bathrooms; demountable GRP pods for projects with restricted access; hybrid GRP pods which offer an enhanced finish and improved aesthetics, and floorless pods for projects where a continuous level floor finish is required.
4. Consider access for installation in the structural design
Pod installation must be allowed for in the build-up of floors and the positioning of walls. Check there is easy access for delivery of the pods to site and around the floor plate to the designated location for each pod.
5. Minimise variations
To optimise efficiency, specifiers should rationalise the number of design types in size and shape, and variations, such as left and right-hand versions, as far as possible. This is key to achieving the economies of scale required for efficient offsite manufacture. Door positions should also be standardised.
6. Assess how pods will with integrate with building services
It is easier if connections to services are made externally so access should be allowed for as part of the installation process. A good manufacturer will design the pods to facilitate M&E connections, using for example, mechanically-fitted pan connectors, and the option of pre-wired junction boxes to further reduce work on site.
Consideration should also be given to the layout and location of pipework for waste and hot and cold water.
7. The building structure should be designed to support a pod
The weight of a steel or GRP pod can be close to the weight of a site-constructed bathroom. A reputable bathroom pod manufacturer should be able to provide these details.
8. Make sure the floor slab is flat and level
The floor slab should be flat and level. For steel-framed pods, this needs to be +/- 10mm tolerance for accurate pod installation. GRP pods should be installed on a levelling compound which achieves a level of +/-2mm and +/-1mm for flatness.
Depending on the type of pod construction, a strategy should also be developed to ensure correct positioning of the pod.
9. Be aware that manufacture of lifting frames should be project-specific and certified for that type of pod
Each lifting frame should be tested for safe and level lifting and certified by a specialist engineer for the required loads. A method statement and test certificates should be provided to the contractor in accordance with CDM regulations. The use of generic lifting frames which may be non-compliant is not recommended.
10. Ensure the perimeter base frame is correctly sized
It should have the structural rigidity for transportation and welded lugs to use for lifting the pod. This will minimise any flexing of the floor or floor damage could result – and should ensure the pod can be lifted safely.
11. Look closely at the pod construction details to ensure longevity:
Steel-framed pods:
Steel-framed pods can have either a double skin wall composition with timber and plasterboard or, preferably, a single skin wall construction with cementitious board to Lifetime Homes standards and wall loadings. Either of these solutions will facilitate tile replacement if required.
The entire wall and floor to the wet area should be fully tanked – not just half of the shower wall – and the floor outside the wet area, including the junction between wall and floor.
GRP pods:
GRP pods should have a robust wall detail with encapsulated honeycomb polypropylene. Be aware that cheaper alternatives such as cardboard or timber, which can be susceptible to delamination.
A panelised system should be used to create vertical walls and 90° corners. This avoids tapered walls for improved aesthetics and to allow easier integration and the use of standard door sets without further work on site. This also facilitates a tile effect within the wall at no additional cost.
12. Review the plumbing specification:
Combined isolation, 'double check' and strainer valves for hot and cold water feeds prevent debris from entering the pod pipework from upstream and damaging components.
Multi-layered composite pipework with a flexible crimped system reduces the number of joints and can be guaranteed for 25 years.
Pipework for all exposed wastes to basin, shower, bath and toilet should be capped off before delivery to site.
All fittings should be checked by both a plumber and QC inspector and each pipe should be identified as hot or cold for ease of connecting on site.
13. Assess what testing is carried out in the factory before delivery to site:
Air and water tests should be carried out on every pod at pre-calibrated static testing stations in the factory. We recommend that at least 20 per cent of all pods undergo a comprehensive functionality test. All outlets (taps, shower and toilet) should have hot and cold water passed through.

The completed electrical installation should undergo a full function and resistance test carried out by NICEIC-approved electricians.
Make sure test certificates are provided for both electrics and plumbing for each pod.
14. Check guarantees and accreditations:
All pods should be certified before delivery to site and supplied with a unique ID number and room location so they are fully traceable throughout their life for superior quality control.

The manufacturer's guarantees should be 12 years for steel-framed construction and 50 years for GRP composite pods, with back-to-back guarantees for sanitaryware and fittings.

The bathrooms should be manufactured to ISO 9001 standard for quality assurance and ISO 14001 for environmental management.
15. Be aware when comparing tenders that not all manufacturers are like for like 
Make sure the pod manufacturer has service commitments in place for:
Inhouse design resources, with suitable experience of projects of similar scale and complexity to the current project
The option of producing an advanced sample pod for customer sign off prior, if feasible, 12 weeks in advance of manufacture
A dedicated site manager who will visit site at regular intervals
After sales support to deal with any issues that may arise.