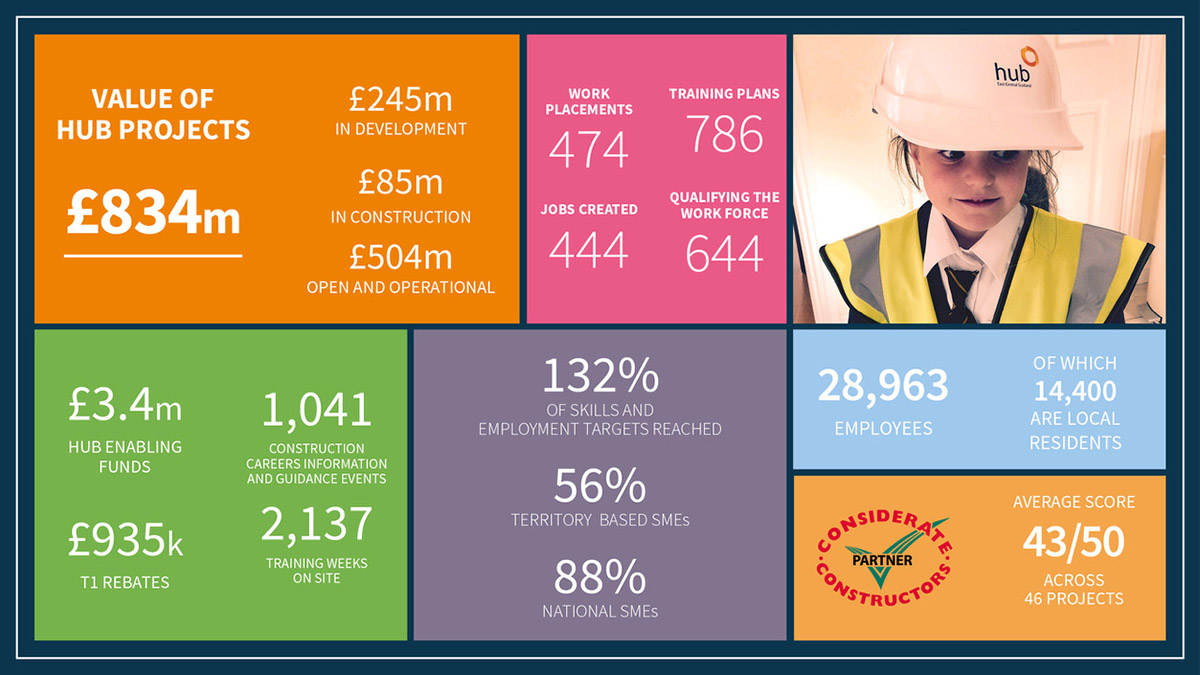 THE value of hub East Central Scotland community infrastructure across Perthshire, Tayside, Forth Valley and Fife has grown by over £100 million in the last year to £834 million, the organisation has revealed in its annual report.
£504 million of that is now open and operational. A further £84 million of project work is currently under construction, with £245 million in development.
During the year, communities benefited from ten new early learning and childcare facilities, refurbished health centres and a catering services unit.
Ian Mullen, chairman of hub East Central Scotland, said, "Improving people's lives in our communities is integral to everything that we do. In the year, our projects created 474 work placements, created 444 jobs and achieved 132% of our target for employment and skills outcomes. We work closely with our public sector partners and contractors to support local SME's and give them the opportunity to bid for work on hub projects across the region with initiatives such as 'Meet the Buyer' events. Once again, this year more than half the value of project work was awarded to companies within the territory.
"We are committed to reducing the environmental impact of community buildings and have introduced the Passivhaus standard to provide a high level of comfort for occupants while using very little energy for heating and cooling. Work has started on our first new Passivhaus primary school which will deliver a significant reduction in energy consumption. Our team has also delivered several successful workshops for Participants to advise on how to adapt existing buildings to meet the standard.
"Our strategic development fund has now provided £3.4 million in support for feasibility studies and concept development that enable public bodies to deliver valuable new community infrastructure. They recognise the value that we offer as a strategic development partner, bringing innovation, expertise and experience to ensure quality and delivery.
"Issues thrown up by the pandemic will continue to create challenges as we move forward, with pressure on logistics and materials, but we continue to operate with a strong model that supports social value. We are confident of continued success in the year ahead, with over £300 million of projects already under construction or in development."
An independent report published by EKOS Ltd this year found the hub programme has performed well against its objectives.