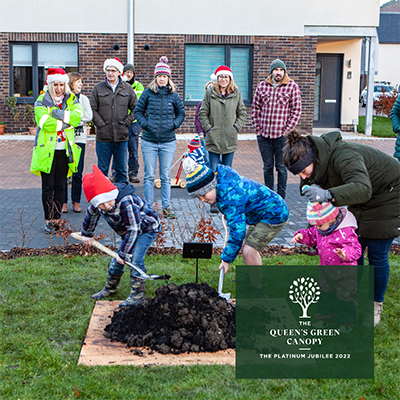 WHITEBURN has confirmed support for the Queen's Green Canopy (QGC) project by planting 30 ornamental trees at its Caerlee Mill development in Innerleithen.
The team has selected a selection of silver birch, acer and cherry trees to enhance the landscape and provide colour throughout the year as the seasons change.
Toria Jones, sales manager for Whiteburn, welcomed children and grandchildren of those living at the development to plant the trees. She said, "We are so pleased to provide a lasting legacy for future generations by taking part in the Queen's Green Canopy 'Plant a Tree for the Jubilee' initiative."
Whiteburn's Caerlee Mill development comprises 44 two, three and four-bedroom houses and cottage flats, each designed to reflect the spirit of the former mill site which stood at the heart of the community for over 200 years.
The roofscape is described as echoing the sawtooth roof of the former mill buildings, while the use of materials such as slate, zinc, brick and timber cladding replicate the site's industrial past.
Eve McCurrich, MD for Whiteburn, added, "As well as creating even more of a special community environment at Caerlee Mill, we believe the planting of these trees will have a positive impact on the local area by providing even more natural habitats for local wildlife to thrive, while creating a living legacy for the community to enjoy as the trees grow and mature in the future."