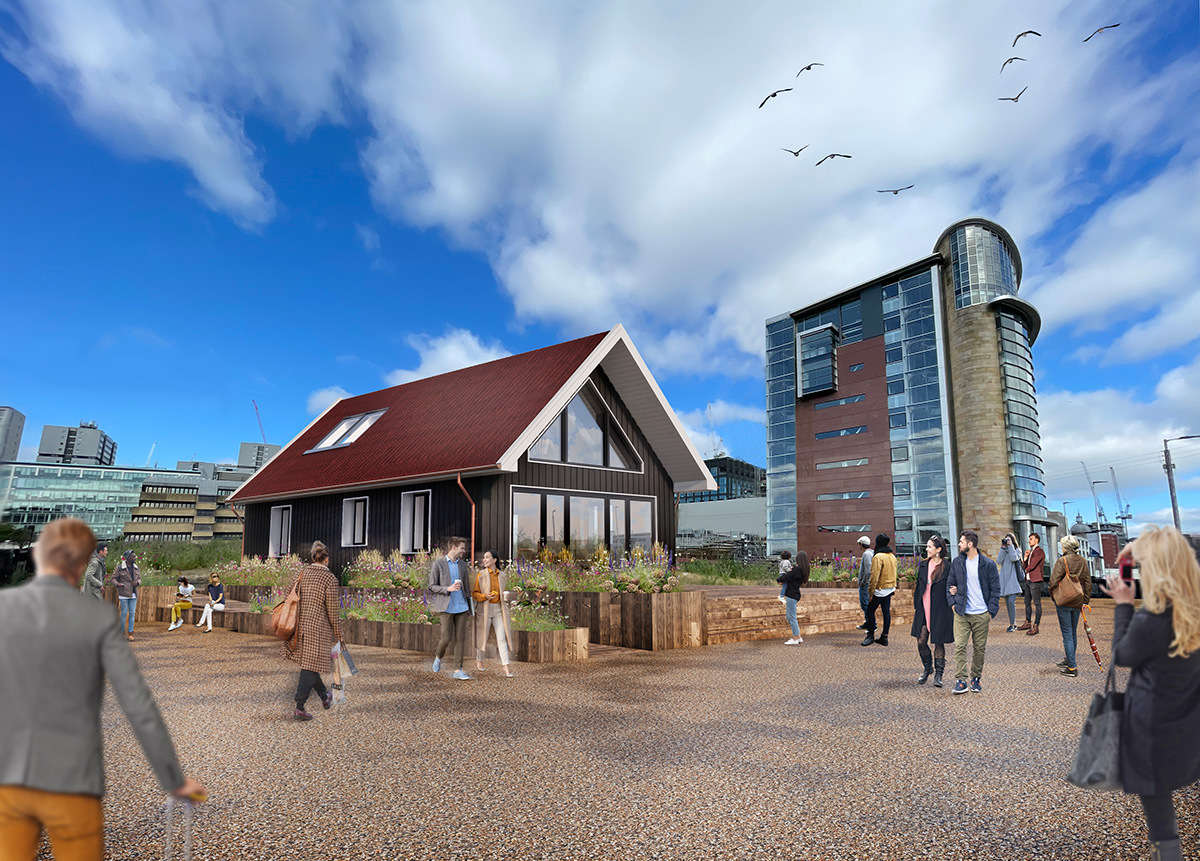 Mike Stevenson, senior manager of strategic markets at NorDan UK, discusses the company's involvement with a zero carbon home being exhibited at the COP26 summit in Glasgow
THE British arm of Norwegian window and door manufacturer, NorDan, will be involved in the COP26 House project from Beyond Zero Homes being showcased in Glasgow.
Developed to demonstrate zero carbon construction and living, the house has been built on a site near the River Clyde, which will be attended by the leaders of the over 190 countries, as well as tens of thousands of negotiators, government representatives, private businesses and members of the public.
Alongside a schedule of discussions on the ongoing climate emergency, there will also be several sites in the city centre acting as exhibition space for businesses to set up product showcases, temporary structures and more.
Zero Carbon COP26 House
One such exhibition will be the COP26 House, built by collaborative group Beyond Zero Homes through a partnership with several businesses including NorDan UK.
Designed by architect and Passivhaus designer Peter Smith of Roderick James Architects, the house is entirely made of timber – including the roof – in order to harness the unrivalled carbon sequestration and additional wide-ranging benefits of wood for environmental and human health.
To further minimise emissions, the house has been built through offsite manufacturing to allow quick assembly on-site, easy disassembly and repurposing of products at the end of the building's life. This is a key part of the design, as after COP26 the house will be dismantled and rebuilt at a site in Scotland.
NorDan UK is providing a range of aluminium-clad timber windows and doors as well as our HomeGuard timber composite entrance door for the project, having been selected as a supply partner due to the excellent low embodied carbon credentials supported by EPD's, exceptional weather resistance, low whole-life costs and efficient operational carbon qualities of our timber-cored products.
Altogether, these qualities ensured our products met the specification for the zero carbon COP26 House and will certainly meet the requirements for future developments prioritising sustainability and low embodied carbon.
With the UK now committed to net zero carbon emissions by 2050, there is a growing belief within the built environment that decarbonisation will be achieved by shifting focus towards lowering the embodied carbon associated with the products specified, construction and manufacturing processes, rather than simply reducing the operational carbon of the building in use.
This is where timber, which captures and stores CO2 over its lifetime, presents a fantastic solution as an alternative window and door material to uPVC or pure aluminium, with their carbon-intensive production processes. Growing awareness of this has resulted in a significant increase in specification of timber fenestration in both private, public and social housing projects. As well as producing lower upfront and embodied carbon emissions, timber windows can become virtually zero maintenance when clad with powder-coated aluminium. For instance, NorDan have supplied products to several social housing developments 20 to 30 years ago that have had minimal external maintenance and should easily last another 30 years.
Sustainability of the raw material is also essential and thankfully much of the timber used nowadays is sourced from managed forests – NorDan follows such an example, having complete control and traceable documentation over our supply chain and planting five new trees for every one felled.
Offering Responsible Solutions
As part of our continued investment in sustainability through our ecoDigital Ready initiative (which takes a combined approach towards sustainability and digitalisation), NorDan UK has also established a dedicated specification team.
I believe that establishing a dedicated team of technical specification advisors makes us stand out, offering a support for development and asset managers looking to optimise their specification. Our dedicated specification team allows us to understand the client and design requirements at an early stage.
The long-term challenge will lie in overcoming misinformation and lack of knowledge surrounding timber as a building material.
While many clients and social housing providers are coming around to the environmental benefits of using timber, some require solid information on the benefits. This is something that NorDan is already trying to encourage through promoting the shared benefits of our timber-cored windows and doors.
With embodied carbon credentials 50% lower than uPVC and 25% that of aluminium windows when measured in kgCO2/kg, according to the BSRIA guide (the Inventory of Carbon and Energy), NorDan's aluminium timber products deliver the optimal fenestration solution to achieve low and zero carbon projects. There are few sustainable fenestration solutions with lower embodied carbon over 60+ years life expectancy.
Reducing carbon emissions in the construction industry will be one of several key talking points during the 12 days of COP26 and projects such as the COP26 House will be vital in demonstrating the potential offered by timber as a building material.
We are proud and excited to be involved with this project and there is truly no better showcase for the possibilities of zero carbon living and the ease of which such buildings can be produced.