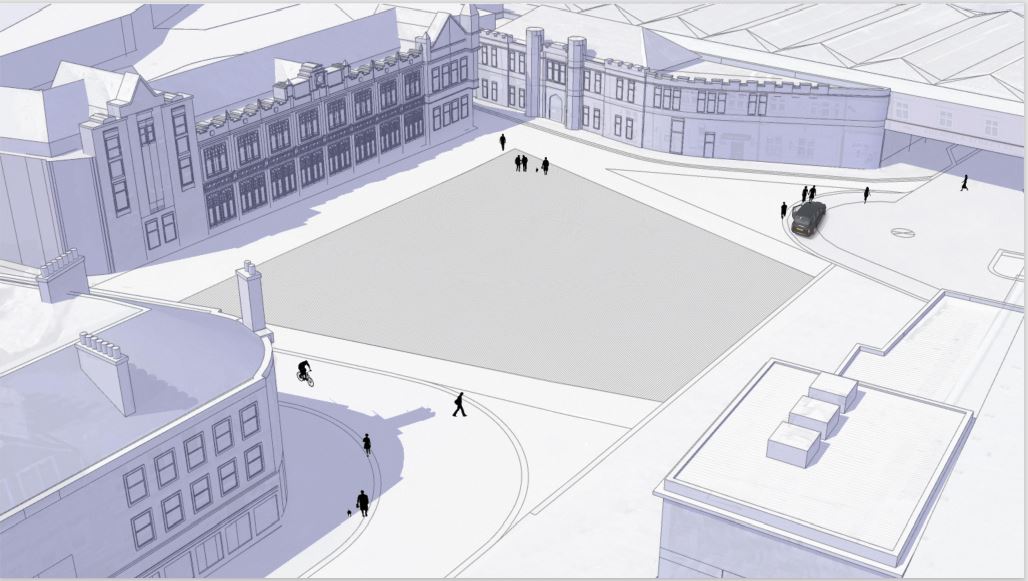 NEW designs showing how Paisley's County Square could be transformed into an expanded outdoor events venue have been unveiled by Renfrewshire Council.
The public is now being asked to have its say on the proposals, which aim to encourage more use of the square all year round.
The design shows the square levelled and flattened with 'high-quality' paving and materials, in turn improving accessibility and creating more room to host outdoor events.
Further to this, much of the street furniture and planting would be removed in the plans to declutter the space, as well as new and improved lighting.
The front of the existing taxi tank would remain in roughly the same place near Paisley Gilmour Street Station, but the queue of taxis would move to Central Way – expanding the available space in the square by around 25%, the local authority said.
Renfrewshire Council leader Iain Nicolson said, "The past 18 months has shown the importance of high-quality outdoor space, and with four million people passing through Paisley Gilmour Station each year pre-pandemic, County Square is the town centre's gateway to the world. And with us expecting in excess of 125,000 visitors a year to the transformed museum when it reopens in 2023, the square will be many people's first impression of the town – so we want it to be a positive one.
"But the designs were also planned with local residents and businesses in mind – the aim is to create a space which allows more events and year-round outdoor activity to help drive footfall and life to the heart of the town. At the same time, the square needs to continue to work as a transport interchange – and the solution for the taxi rank maintains easy access to taxis for train passengers and helps drivers move through the town, while expanding the space available in the square for other activity.
"The changes were carefully planned on the basis of previous feedback from residents and businesses, and we'd now like to hear their views on the developed designs."