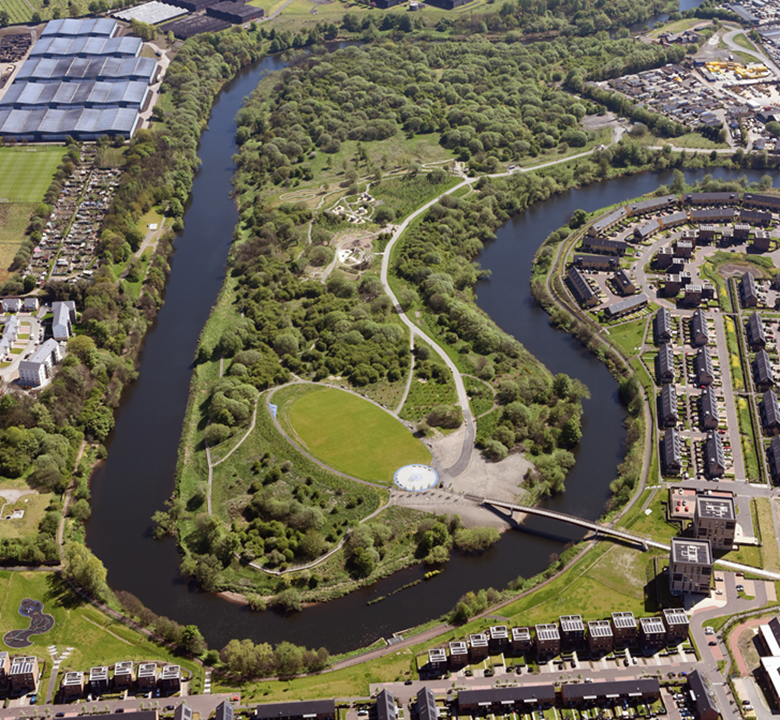 ROBERTSON Group has started work to extend the award-winning Cuningar Loop Woodland Park on the banks of the River Clyde.
The move marks the start of Phase Two of Clyde Gateway's largest parkland project. This phase is part of a new £40 million Scottish programme of projects to improve the urban environment of towns and cities. The Green Infrastructure Strategic Intervention, led by NatureScot, is part-funded through the European Regional Development Fund (ERDF), with a £15 million investment in urban Scotland.
The ERDF funding along with funding with the Scottish Government's Clyde Mission fund will see the £3.8 million extension delivered by Robertson Group. The company has been contracted to transform the once derelict former landfill site into new green space.
Cuningar Loop Woodland Park, managed by Forestry and Land Scotland, currently spans 37 acres and links communities in Dalmarnock in Glasgow's east end and Rutherglen in South Lanarkshire. Upon completion it will span 58 acres.
The extension will see the inclusion of 1,722 linear metres of footpaths, a teaching amphitheatre created with tree trunks, 167 specimen trees, and 11,000 square metres of wildflower meadow and grassland.
Earlier this year, Clyde Gateway announced two new facilities for the park – The Bothy and Tur – which are also currently under construction. The Bothy is a meeting space, and The Tur is an accessible viewing platform that will provide treetop views over the park.
Clyde Gateway's chief executive, Ian Manson, said, "Clyde Gateway continues to show why it is Scotland's largest and most ambitious regeneration project with the expansion of this much-loved woodland park. Glasgow's east end is a great place to live, work and visit and the extension of Cuningar Loop will give everyone even more fantastic outdoor space that can be used all year round."
Francesca Osowska, chief executive NatureScot, added, "With all eyes on Glasgow and the forthcoming COP26, the expansion of this idyllic park is great news, creating quality green space and nurturing nature in the heart of the city. The pandemic has resulted in many more people using and enjoying parks and other green spaces and we hope this development helps to sustain that connection with nature, with all the many benefits that has for people and the planet."