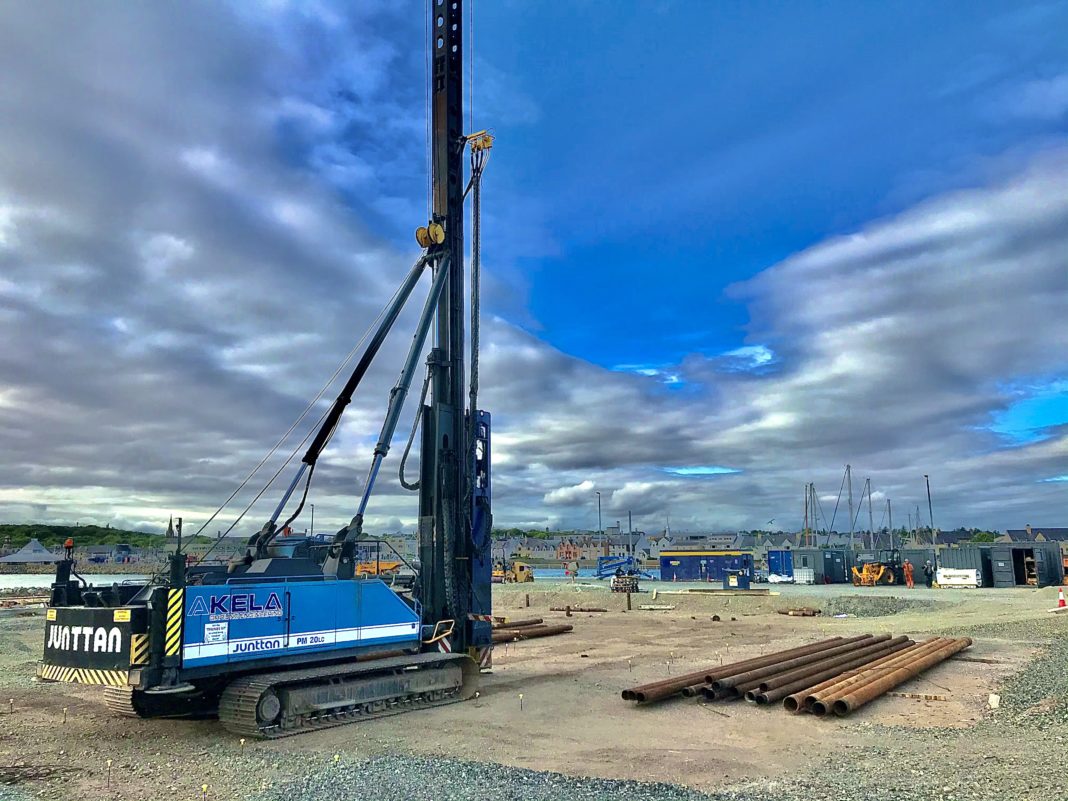 A Glasgow-headquartered ground engineering and construction firm, which recently announced plans to expand into England, has revealed that investing in youth is key to meeting increasing industry demands.
Mark Markey, MD of Akela Group, told Project Scotland how the firm has taken on a record 22 apprentices this year at the same time as the business presses ahead with the expansion into a new base in Leeds.
"We've always taken the view that if you promote apprentices and get youth in the business that it brings rewards," he said. "We've had to refocus on that in the last year or two; we've really bought into the modern apprenticeships."
Having recently secured contracts for work on Barratt Homes' 115-property South Forth Street development in Edinburgh, as well as a CALA Homes project to deliver 180 new homes in East Calder, the intake of apprentices can expect plenty site experience – something Mark said is 'crucial' for development.
Six years after its inception, the firm founded its sister company, Tala Training, in 2009. Initially created solely to service the development needs of Akela, it now acts as a standalone test centre and provider for construction health and safety training.
"We established Tala primarily to meet our own needs, as we're very aware of the need to get the proper skillset into the firm and also how important the health and safety side is," Mark explained. "From there, it kind of evolved into a national training provider based in Glasgow, Edinburgh, Manchester and soon-to-be Leeds.
"It's a great partnership – it works really well, for upskilling our own employees but also now it can deliver so many accredited courses across the country."
As with previous years, Akela's latest intake of apprentices features individuals from YouthBuild. The Glasgow-based initiative, which works with Tala, aims to get 16–24-year-olds with barriers to employment into the construction sector, by helping them achieve the required qualifications.
"Their ability is very, very evident. They know what they have to do to maintain their employment, and they're coming in with a good mindset," Mark said. "We've had some comments from them about how it is life-changing. Some of the people coming in haven't had the opportunity of employment for whatever reason, but it's giving them the opportunity and they're coming into an environment where they're accepted and have a real opportunity to excel."
Mark cited one recent example of an apprentice who was taken to Akela's early work on a Bellway Homes project. Because he experienced the entirety of the process – from the earthworks up – he managed to apply the learnings to his classroom modules and as a result move through his coursework quicker.
Despite implementing initiatives across the business to bring youth through, Mark said work still needs to be done to promote construction as a viable and rewarding career option in schools. He recalls 'huge' intakes of young people when he first started his career, but believes many youngsters today aren't made aware of the great opportunities the industry can offer.
"We need to encourage young people into the industry, and I think that's where we've failed as a sector over the years," he said. "We need to promote ourselves. There's good earnings potential within the sector and I think construction is a good career move for a lot of people, but many aren't aware of that."
With a base now secured in Leeds, the firm is hoping to add to its 300 existing employees as it looks to break into the market in the north of England. All being well, Mark said a 10% growth of the business over the next two years is 'achievable', with Leeds having been strategically chosen as the home of their new facility.
"We've been established since 2003 and successful in Scotland. We founded our sister company (Akela Ground Engineering) around two years ago, and they bring a different skillset and discipline in the form of more technical ground engineering, geo-technical and piling solutions," Mark explained. "We felt… it was a good time to take a more regionalised approach to our business. So, we looked at the growth area and decided Leeds was a good place to have our hub to try and cover the north of England.
"We have good relationships and partnerships with existing PLCs that operate in that area. So, we're hoping we can get some introductions so we can get down to England and start providing our service right away.
"We always need to be mindful that we're here to deliver. We think we're at a good delivery level in Scotland, for the client base we've got. Certainly, down in Leeds we'll approach it the way we've approached our business here and we'll take on contracts that we know we can deliver on, rather than just try and hit target numbers."