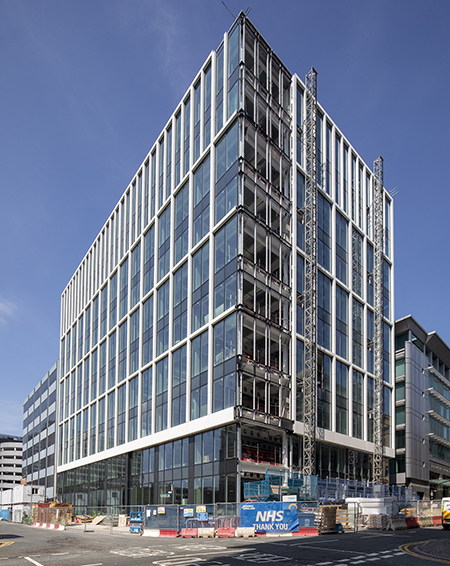 AVISON Young has released its latest quarterly Glasgow office market update, which reveals that office take-up in Q3 2021 was 66% higher than the 10-year average.
The real estate advisor said the research shows that momentum has 'significantly increased' over the past three months.
Avison Young added that this comes as occupiers 'reassess' office needs and target 'appropriately sized and flexible spaces, introduce hybrid working styles, and look to improve the overall quality of the workspace' ahead of a full return to office in the coming months.
The firm is now predicting that the total year's city centre take up will likely reach circa 550,000 sq ft, close to the 10-year average take-up.
Avison Young was involved in some major landlord pre-lettings in Q3. The Student Loans Company secured 75,000 sq ft on the last building at Drum's placemaking project on Glasgow's waterfront, Buchanan Wharf and at Cadworks, where the first tenant, TLT Solicitors, signed on the top floor.
Paul Broad, director and head of business space, Scotland, said, "It is very apparent that there is no one size fits all approach and every building specification and every occupier requirement, is uniquely different. The improved Q3 take up tells a small part of the story, as businesses slowly return to the office, or are preparing to return to offices, in Glasgow. However, this is just the first chapter and as our markets begin to fully open up we predict that there will be a further increase in activity and a rapid evolution of 'the office' in Glasgow, across Scotland and the UK.
"We have been extremely active advising landlords and occupiers on their next generation developments and office acquisitions. This has involved working alongside Avison Young's sustainability experts to try and future proof office space for the net zero carbon evolution of real estate."
Alison Taylor, MD of Avison Young, Glasgow, added, "We expect activity to remain buoyant across all sectors of the market for some time as many occupiers, who have pledged to commit to the UK's 68% carbon reduction commitment by 2030 realise they cannot necessarily accomplish this in their existing office accommodation. Typically, older or poorly specified offices will need comprehensive refurbishments and upgrades to reduce energy consumption and carbon emissions. Avison Young expects many occupiers looking to relocate to seek out environmentally friendly offices, with many aspiring to secure Net Zero Carbon (NZC) office specification – which can only really be achieved in newly adapted office refurbishments and redevelopments, or by significant adaptation of their existing premises."