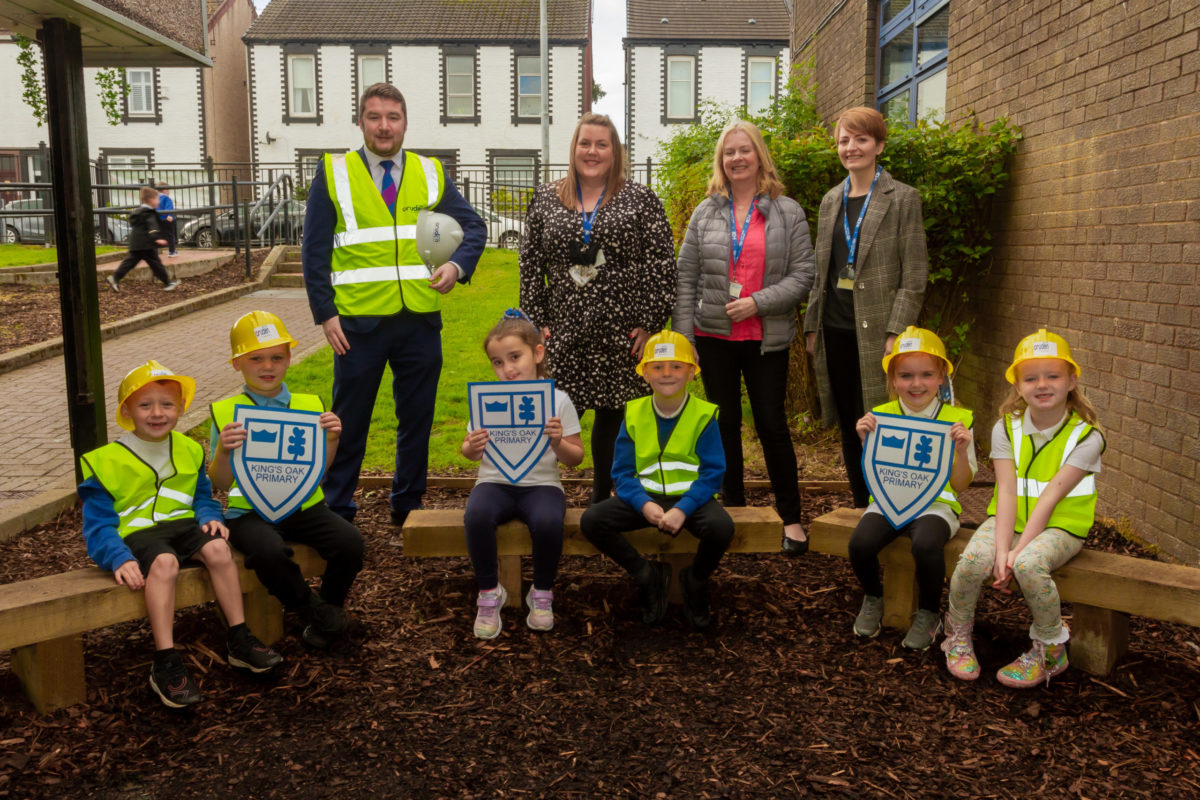 CRUDEN Building has helped out a primary school in Inverclyde by transforming outdoor play areas and building new pieces of equipment for pupils to enjoy.
King's Oak Primary is close to Cruden's 137-unit affordable housing development being constructed at James Watt Dock in Greenock on behalf of River Clyde Homes.
Cruden's community benefits team worked with the teachers and staff to establish the needs of the school before donating materials and building an outdoor classroom with log tables and seats. The team also removed overgrown shrubs from the planter area and replaced it with new top soil to allow the children to enjoy learning about gardening and sustainability. A new fence and gates were also erected around the perimeter of the outdoor games area.
Caroline McCahill, senior family worker from King's Oak Primary, said, "Thanks to the invaluable support of Cruden Building and River Clyde Homes, our outdoor play area is more secure, and many areas of our playground have been greatly improved. This includes the addition of an outdoor learning space and the revamp of our green space. This has been ideal for our children to safely enjoy playing and learning outdoors and has transformed our school grounds."
Gordon Lee, director at Cruden Building, added, "We take real pride in supporting the local communities that we are working in and seeing the difference that it makes first-hand. We're pleased to offer support to staff and children at King's Oak Primary and hope they enjoy the new facilities for years to come."
Elaine Cannon, service improvement manager at River Clyde Homes, commented, "River Clyde Homes is delighted with the works our house builder, Cruden Building, has carried out at King's Oak over the summer as part of the community benefits scheme within their contract. It has made a real difference to the playground area for the pupils and staff. We hope the school reap the benefits from the improvements and get lots of enjoyment from the outdoor classroom!"
The James Watt Dock development forms part of River Clyde Homes' plans to build over 500 new properties in a five-year period since 2017.