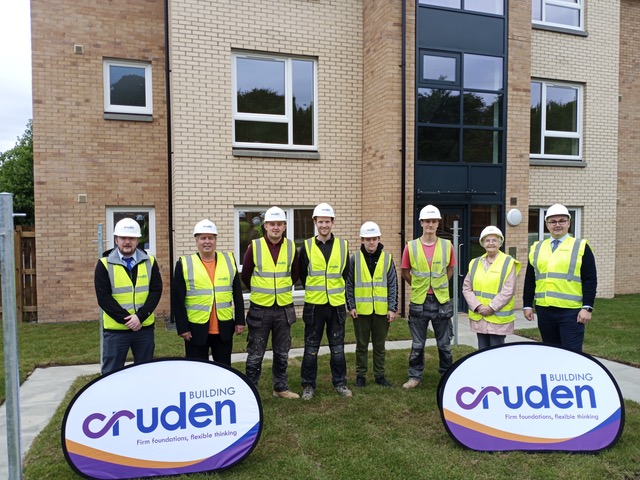 A new housing development in Castlemilk, Glasgow, has provided a number of apprenticeship and employment opportunities for the local community.
The project, which is on course to deliver 60 units by May 2022, is being progressed by Cassiltoun Housing Association in partnership with Cruden Homes West.
The development is being funded through Glasgow City Council/Affordable Housing Supply Programme and CAF bank.
Clair Malpas, Cassiltoun's CEO, explained, "Our development programme has given us the opportunity to go beyond the much needed 'bricks and mortar' of new homes and allowed us to make meaningful investment in the community.
"Cruden Homes West have more than fulfilled their obligations under the community benefits clause of our contract – facilitating new apprenticeship and employment opportunities, ensuring completion of training for year 4 apprentices and providing a much-needed cash injection to our communities team who have used this to provide a wide range of community resources such as equipment for volunteers, art materials and digital devices. There has also been no hesitation from our contractor in providing ad hoc help to local businesses such as building a stage for our local nursery's graduation ceremony."
Fraser Lynes, MD of Cruden Homes West, added, "At Cruden Group, we build communities, not just homes so we are fully committed to giving back to the local area and providing a wealth of community benefits including work placements, apprenticeships and supporting local groups and businesses as we deliver this exciting new housing development."
Councillor Kenny McLean, city convener for neighbourhoods, housing and public realm at Glasgow City Council, commented, "While new high-quality homes undoubtedly improve the quality of life for their residents and drive the regeneration of an area by making it a better place to live, developments like this go further. This is true 'community benefit' in action – offering apprenticeships and work placement opportunities to local people, and supporting local businesses and organisations."