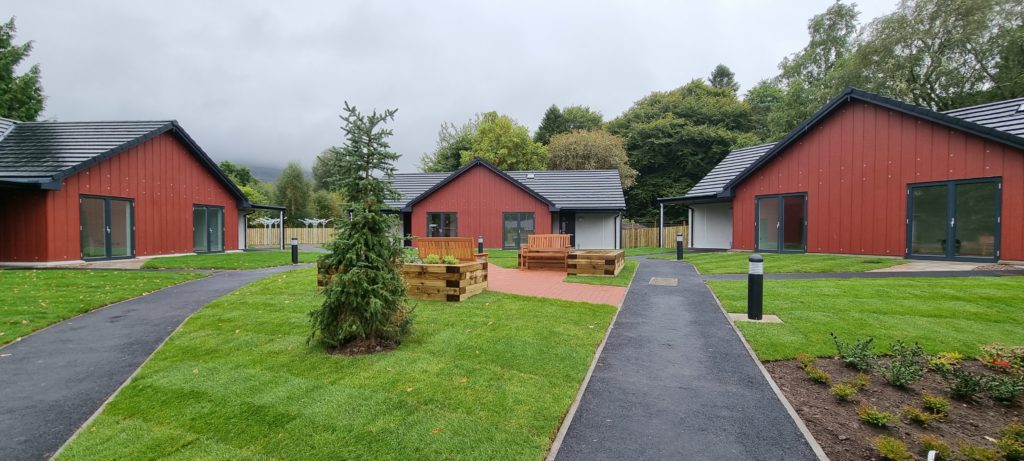 COMPASS Building and Construction Services has completed the build of a 'groundbreaking' Highland Council housing pilot at the Telford Centre Care Home.
The housing provision will look to act as a 'stepping stone' between living entirely independently in the community and living as a resident at the care home.
The six properties are self-contained with 'flexible' kitchen provision to cater for wheelchair users, as well as fully adapted bathrooms accessible from both the hallway and main bedroom.
They also feature a room which can be used by the resident as required, with the local authority saying it would be sufficient as a small dining area or a space for an overnight guest.
Patio doors onto the garden from the lounge allow residents to sit out, with the large covered porch acting as a dry entrance.
The development comes in a bid to support residents with an increasing need to stay at home and live independently for longer.
Residents receiving care will continue to do so via care at home packages. The council said that by grouping the homes in a 'cluster' care delivery will more efficient as carers won't have to travel long distances between clients.
Leader of The Highland Council, councillor Margaret Davidson, said, "Development of adapted houses is not new to the council, but this pilot takes the fresh step of building the units in the grounds of the Telford Centre Care Home to provide the missing link between living independently and entering a formal care setting.
"We've worked closely with the NHS and with the local Community Company, who kindly provided some of the land needed to enlarge the Care Home garden sufficiently for the 6 units we have built, and I think the project is a splendid example of how partnership working can bring tangible benefits to communities. I am sure the new residents will be very happy in their new homes."
Karen-Anne Wilson, the NHS district manager for Lochaber, added, "This is a really exciting development for the area so I am delighted to see the homes completed and ready for people to move into."
Compass Building and Construction Services worked alongside engineer, HGA, and architect, Bracewell Stirling on the project – with the works being delivered under budget.