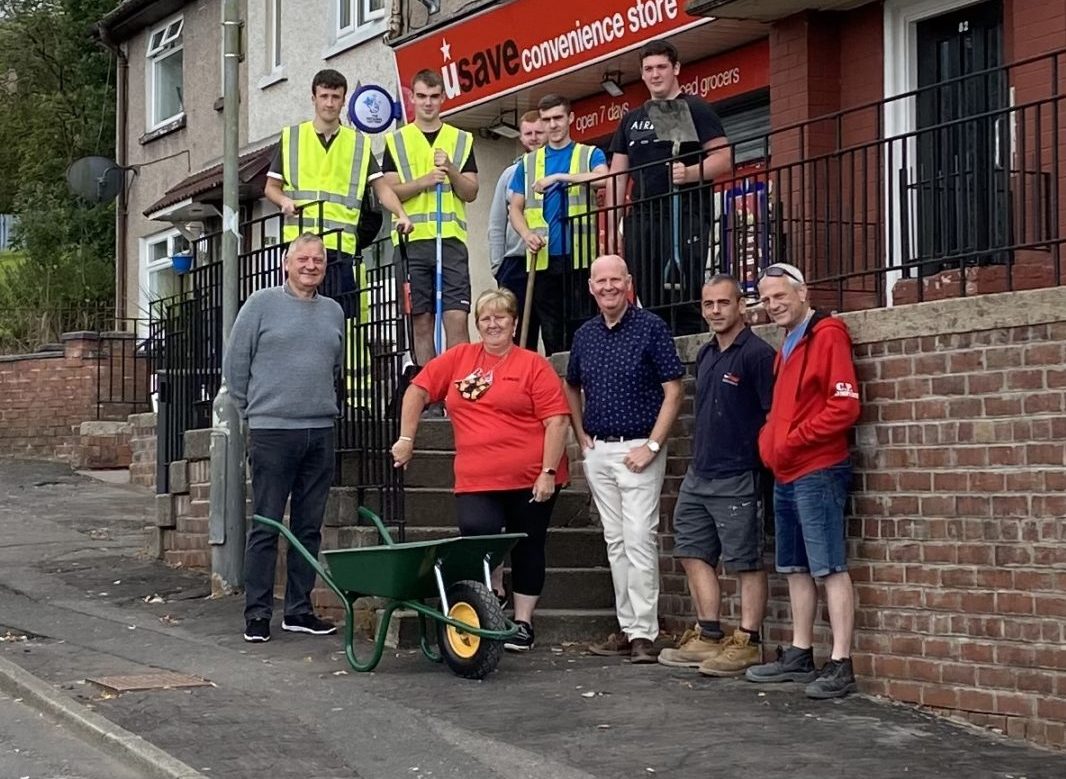 TRAINEE tradespeople have gained essential construction and landscaping experience by sprucing up a Greenock residential and retail area.
It comes as part of a training scheme run by the Inverclyde Community Development Trust, which forms part of Inverclyde Council's future jobs programme.
The trainees carried out the tasks at the flats and shops at Bridgend Road, with the work including repairing and repainting railings, replacing broken slabs, repointing brickwork, weeding and pressure-washing.
Councillor Michael McCormick, Inverclyde Council's convener of environment and regeneration, said, "The Trust does fantastic work across Inverclyde providing local young people with essential skills to improve their employment opportunities. That's why the council, through our future jobs programme, is keen to support such a worthwhile initiative, which fits in perfectly with our ongoing Inverclyde Works campaign to create and promote job opportunities to support recovery from the pandemic.
"The added benefit is that they get to put their new-found skills to good use in the community and really enhance areas such as this. When we were approached by Susan and other residents at Bridgend Road it was initially to deal with groups of youths congregating around the shops at night. With the help of local blacksmiths Inverweld new railings have been installed and The Trust have done a great job tidying the area outside and so far the feedback from the local community has been very positive."
A spokesperson for The Trust added, "Our future jobs trainees have gained new skills in construction, groundwork and hard landscaping, they have repaired and painted the railings, replaced broken paving slabs, repointed the brick work and weeded, cleaned and pressure washed the whole area, which is now looking much better. Part of the improvements also includes the installation of two painted ironwork railings which will sit on top of stone plinths either side of the front door of the flats to discourage anti-social behaviour and stop people gathering at the entrance.
"These improvements have been carried out in consultation with the community and this project has been especially positive because it was initiated and based upon feedback from local residents who have been kept updated with developments throughout the duration of the project. The new skills gained by the young trainees, alongside other training being undertaken through The Trust's Employability Project, will equip them to move into full-time employment."
Resident Susan McArthur said, "The railings were rusty and didn't look like railings and the walls were crumbling. The boys have done a fantastic job. It's a hundred times better."