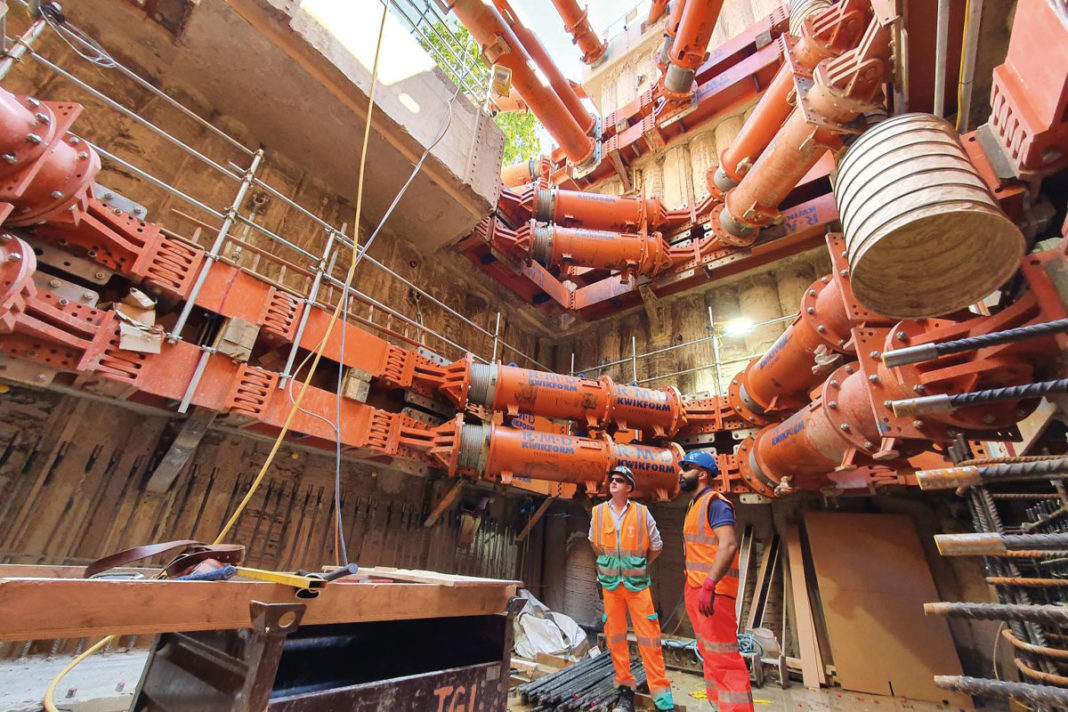 GROUND shoring products supplied by RMD Kwikform have been utilised in the construction of the new Thames Tideway Tunnel.
London's Tideway project is designed to stop raw sewage entering the Thames during heavy rainfall.
One of the key sites is Chelsea Embankment Foreshore. Led by the Ferrovial Construction and Laing O'Rourke (FLO) JV, this section has included the excavation of a 16.5m deep interception chamber, positioned under the course of the River Thames, which will divert sewage from the existing sewer system.
To support the construction of the chamber, RMD revealed it worked with FLO to engineer a heavy-duty propping system to support the retaining walls of the excavation. Groundworks equipment provided included 610 diameter steel props (RMDK's Tubeshor 610) and a 550 bespoke section waler system (RMDK's GeoBrace 550).
One of the challenges was the confined space of the shaft, as well as providing a 'robust' solution to support the secant wall. This section of the Thames is tidal, which can result in level changes of over seven metres – leading to cyclic loading at 12-hour intervals. RMD said its equipment was chosen due to 'performance and sustainability' factors.
Ajay Nagah, engineering and major projects manager (ground shoring) at RMD Kwikform, explained, "We entered the frame relatively late in the design cycle where a traditional fixed structural steel solution had already been developed – which is usually the case with a job of this depth and duration. We, therefore, had to match or exceed the performance of the existing solution to prevent time delays from significant re-designs and checks, whilst incorporating new features that would pose unique benefits to the site team.
"One such feature was the 'hybrid' hydraulic unit of the Tubeshor 610 props that telescopically extends to pre-load supporting members before being isolated mechanically. The hybrid ram ensures that all loads are transferred through the steel element of the prop only – providing high axial stiffness whilst mitigating the risk of hydraulic squash or failure whilst subject to high loads. All without the need for on-site welding."
Other services offered to the project were 3D modelling and wireless load monitoring; with the latter giving an indication of actual prop behaviour compared to theoretical design values.
Ajay Nagah added, "Our E-Pin technology records actual prop forces and temperature over time and is displayed in graphical format via any web browser. Trigger levels are set as early warning indicators to ensure any major deviations from expected loads are captured early enough and worked around before they become real problems.
"It was also interesting to see the variable effects of tidal and thermal loading – with the latter representing over 50% of calculated prop forces which, if critical, can necessitate the need for thermal blankets to dampen thermal loading."