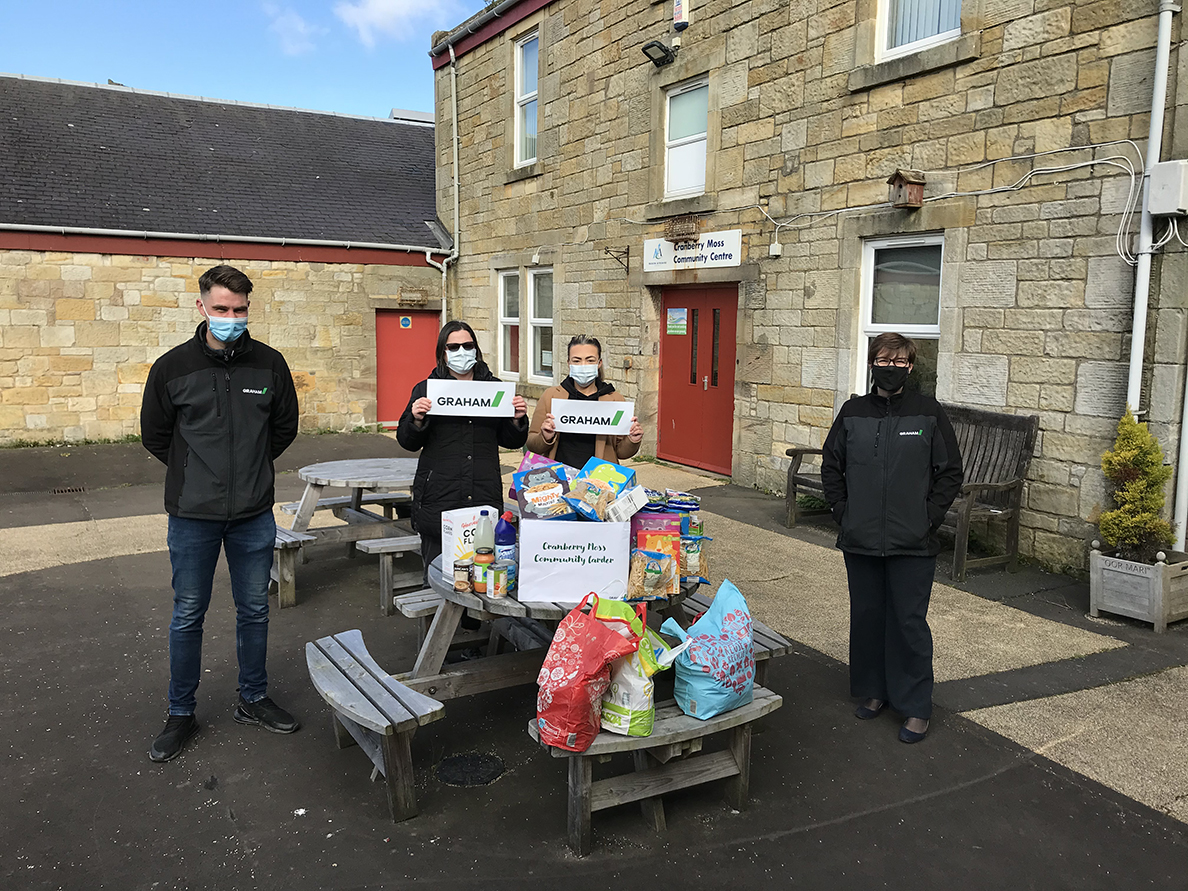 GRAHAM has been supporting local communities with donations to foodbanks across Glasgow and North Ayrshire.
In North Ayrshire, the contractor's site teams made food donations to both Cranberry Moss Community Larder and ACES Woodwynd Community Larder. In Glasgow, a two food parcels were delivered to Aspire Emergency Housing for Homelessness and Carntyne & Riddrie CU Food Bank. Contributions were supplemented by on-site subcontractors Branniff Joinery Ltd, Stothers M&E and Optima Contracting Ltd.
GRAHAM is currently delivering the £12 million St Michael's Wynd project in Kilwinning for North Ayrshire Council for its development partner hub South West. The scheme will comprise of ten supported living residences, 24 sheltered housing residences, 38 two-bedroom, five three-bedroom and two four-bedroom homes.
In Glasgow, GRAHAM has secured a residential build-to-rent project on the banks of the Clyde on behalf of developer PLATFORM_. The 498-apartment development will consist of four blocks, including a 20-storey tower, with facilities including a gym, rooftop garden, lounges, cycle club and café.
Suzanne Stevenson, social impact advisor at GRAHAM, said, "Together with our subcontractors, we are pleased to donate to these deserving causes, and support local foodbanks to assist the most vulnerable in our society. GRAHAM is committed to supporting the local community. Now, more than ever, foodbanks need as many donations as possible and we hope that our contribution will encourage others to do the same, ensuring that we can all work together to help as many people and families as possible."
A spokesperson for Cranberry Moss Community Larder added, "We'd like to express our sincere thanks to the GRAHAM team and their colleagues for this generous donation. The pandemic has impacted all of us but has had a disproportionate effect on those with lower levels of financial security. This valuable gift of food and toiletries is greatly appreciated and has helped us in our mission to provide an accessible and affordable source of food to anyone in the local area that needs it."