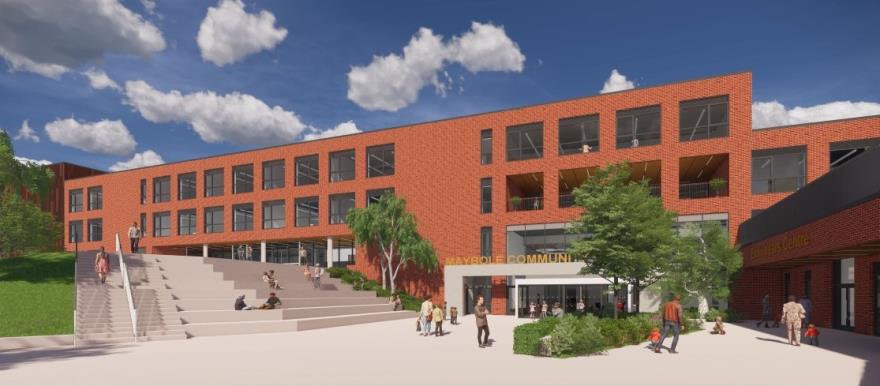 THE cost of the build of a community campus in Maybole has risen by over £6 million, South Ayrshire Council has revealed.
Members of the local authority's leadership panel will meet next week to discuss the approval of a revised funding package for the project which was originally valued at £50 million.
A report from the council read, "The supply of materials to the construction industry is under severe pressure resulting in longer lead in times, higher prices and price volatility. Materials shortages are said to be the result of a number of compound factors: Covid-19 has affected supply from mills and factories; supply chain bottlenecks due to global demand shocks, container shortages and port delays; construction demand rose quite sharply in the second half of 2020 after initial lockdown; increased administration at UK ports affecting imports and exports due to UK EU Trade and Cooperation Agreement; sharp rises in shipping costs and temporary surcharges.
"As a result, the costs for the Maybole Campus Project have risen by a substantial amount over the past six months. A savings exercise was undertaken to try and offset the increase in costs. This looked at a number of items that could either by removed or the specification reduced without impacting on the quality of the proposals. Following this exercise the total project cost including all construction related costs, development and professional fees and client direct costs is now £59,326,957."
The council will now seek to increase the project's budget by £6,084,213. Alterations to the original plans are also being considered as an alternative, which could see the second all weather pitch being replaced by a natural grass alternative, which would save a potential £250,000; omit the second all weather pitch completely leading to a £3.3 million potential saving; remove the campus wind turbine, saving £80,000; and/or omit the primary school MUGA resulting in £35,000 being saved.