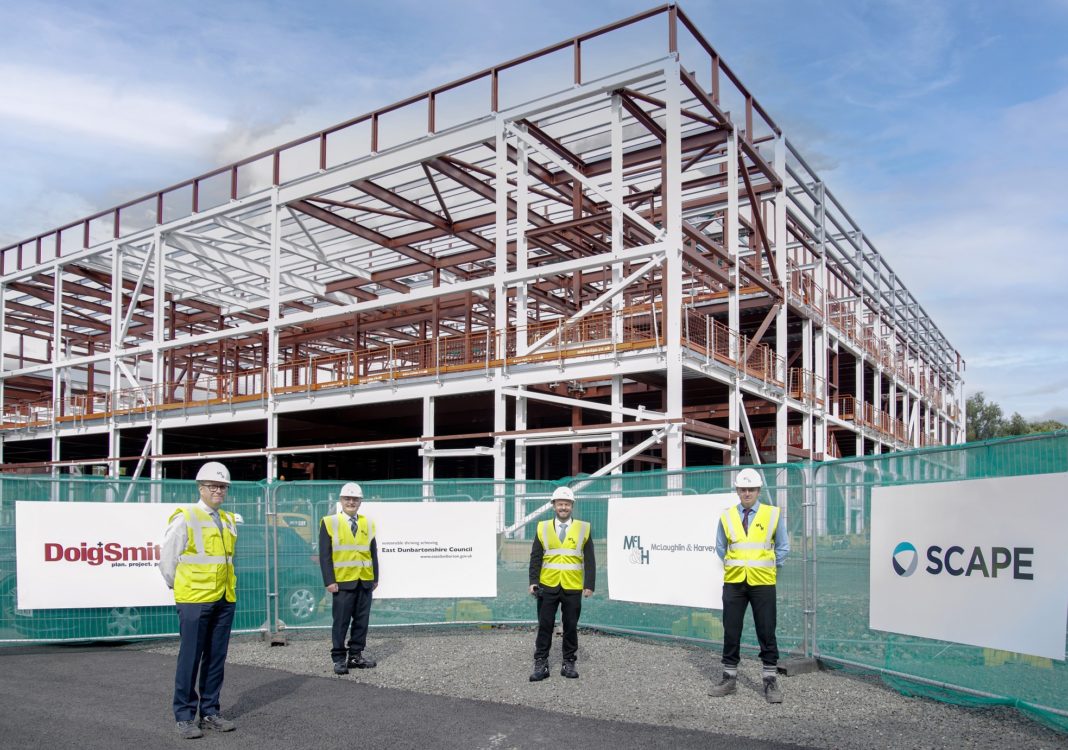 MCLAUGHLIN & Harvey is progressing with works on the build of the new £42.5 million Allander Leisure and Day Care Centre in Bearsden.
The East Dunbartonshire Council project includes a new sports and leisure complex, as well as a support centre for adults with learning disabilities. Work first commenced in January, with the foundations now having been successfully laid and construction of the steel frame 'almost complete'.
The local authority said that McLaughlin & Harvey plans to commence 'envelope works' in the coming weeks – which includes roofing, walls, windows, doors, floors and more.

Scheduled to open in autumn 2022, the overall project is forecast to be completed by summer 2023 – with phase two involving the decommission and demolition of the existing leisure centre, whilst phase three involves the build of a new 'sportsdrome' and final car park works.
Councillor Andrew Polson, joint leader of East Dunbartonshire Council, said, "It has been a long road to reach this milestone stage and I want to thank everyone who has taken part in the journey – including local residents, organisations and partners. Allander Leisure and Day Care Centre represents a major capital investment by the council and will help to change local lives for the better. I can't wait to welcome the completed project, which will offer a range of facilities to help inspire and support people of all ages."
The facility has been designed by Holmes Miller, with support from Doig+Smith, Brown + Wallace and planning consultancy, Barton Willmore. As part of the contract, McLaughlin & Harvey engaged with the local community throughout the project.
McLaughlin & Harvey MD, Paul Griffen, commented, "McLaughlin & Harvey is delighted to be working with East Dunbartonshire Council to deliver Allander Leisure and Day Care Centre. From the commencement of this exciting project, we have been working in partnership with the council and supporting the local community. It has been a really positive experience to date and we will continue to input into local projects, employment and skills throughout the duration of the project."