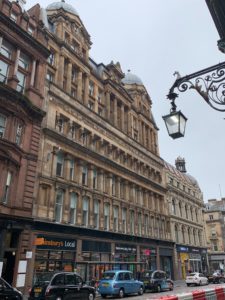 EAST Kilbride-headquartered akp has announced that it has been awarded four 'significant' new contracts.
The first comes with Registers of Scotland for the overhaul of the VRF system within Edinburgh's Meadowbank House – allowing for individualised comfort control, as well as simultaneous heating and cooling in different zones.
The second and third contracts are internal and external alterations at two nurseries within Dunblane and Newton Schools for Stirling Council. Works to the two buildings will run concurrently and will include but are not limited to plumbing, electrical, new central heating and decoration.
The final contract will see the 'extensive' refurbishment of the category A-listed Grosvenor Building in Glasgow. Designed by Alexander 'Greek' Thomson as a commercial premises in 1860, it was ravished by a fire before being reconstructed to the original design in 1864.
In 1907 it was restructured by James H Craigie who was enlisted to add an extra two storeys to the building. The structure was damaged again by fire in 1967 and rebuilt as office space, before further redevelopment in 1992. With only the façade remaining it is a seriously under-appreciated building considering its history and prominent position opposite Central Station.
To ensure the efficient delivery of projects, akp has been working with global documentation expert Multivista, who specialise in capturing all aspects of construction projects from fit out to large scale new build, using cutting-edge reality capture technology to meet all visual construction documentation needs. The digital capture technologies compliment social distancing and eliminate the need for numerous members of a project team to gather on site.
Site condition visibility using Multivista High-Frequency 360 Digital Progression capture will provide design team and supply chain with immersive digital coverage of the sites, which akp said will reduce the need for non-key personnel to visit site.
Roz Malcolm, business development manager for akp, said, "We are delighted to bring our expertise to these projects, delivering them safely, efficiently, and sustainably. Throughout, we will implement both our own and industry innovations as well as providing excellent workmanship, to successfully deliver these early years and commercial projects for our clients."