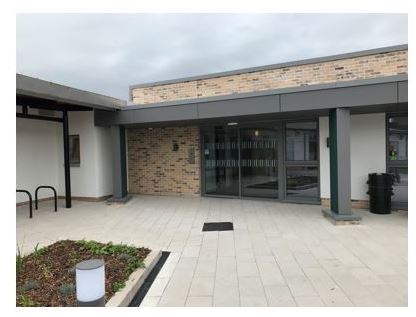 CCG has completed work on a £2.4 million nursery expansion in Port Glasgow.
Rainbow Family Centre has a new wing in place in time for the return of staff and young people after the summer holidays after work was carried out on behalf of Inverclyde Council and hub West Scotland.
The extension features a new entrance, staff and meeting area, playroom and an outdoor
learning space. It will increase capacity by 64 to support the council's doubling of early
years provision to 1,140 hours per eligible child.
The new wing has been built in the nursery's car park and connected to the existing building. The car park has been relocated to the site of the neighbouring former Park Farm Community Hall, which was demolished.
Iain Marley, chief executive of hub West Scotland, said, "We are delighted to continue our fantastic relationship with Inverclyde Council. The extension to the Rainbow Centre forms part of an investment to create two outstanding early learning and childcare facilities. These assets provide high quality learning environments that will play a key role in children's future development.
"The pandemic has made it a tough year so we are doubly grateful to the Inverclyde Council team and our fantastic supply chain partners have worked together to overcome exceptional challenges. The existing centre remained open during the building work and our thanks go to CCG (Scotland) Limited and the Inverclyde community for their collaboration, flexibility and commitment to deliver such a high quality facility."
Construction started last September following a short delay caused by the pandemic. David Wylie, CCG MD, added, "The Rainbow Family Centre extension is a valuable addition to a well-utilised community asset. CCG, alongside our partners hub West, have had the privilege of supporting Inverclyde Council's ambitious education investment programme for a number of years now with Rainbow now being the fourth project in as many years to have been completed across the regional area.
"We commend the council for their efforts in supporting early learning and we look forward to working with them again in the future."
The Rainbow extension has been built in tandem with the £2.9 million new-build Larkfield Early Learning Centre in Greenock, which is also being delivered by CCG and hub West and is due for completion next month.
Both developments have been designed by architects Holmes Miller.