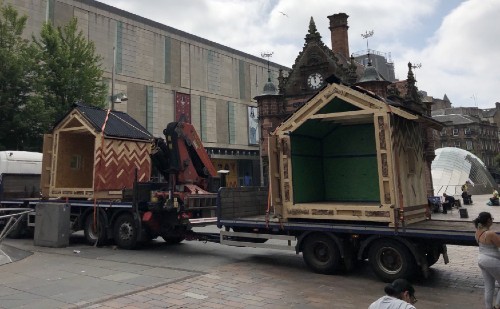 TWO huts built to different standards are to be filled with ice and placed in Glasgow's St Enoch Square to highlight energy efficient building methods.
One will be constructed to the Scottish Building Standard, whilst the other is a Passivhaus structure.
The latter is a highly energy efficient building performance standard originating from Germany which Glasgow City Council and local housing associations are increasingly implementing in their new build and retrofit projects.
The public installation will run until August 6, with the amount of ice left in each box being measured in a bid to determine how well each of the huts passively kept out the heat currently being experienced in Glasgow.
The project is a joint effort from the International Passive House Association, Glasgow City Council, Passive House Institute, Edinburgh Napier University, Passivhaus Trust and Construction Scotland Innovation Centre and enjoys the patronage of the UNECE and Global Alliance for Buildings and Construction.
It originates from a student design competition, which was won by a team from Robert Gordon University. Inspired by the Scottish Highlands, their design incorporated features and materials that would minimise the huts' embodied carbon.
Dr Julio Bros-Williamson, of Edinburgh Napier University's school of engineering and the built environment, will be at today's (July 23) opening ceremony alongside the winning student team to talk about taking the design concept to reality.