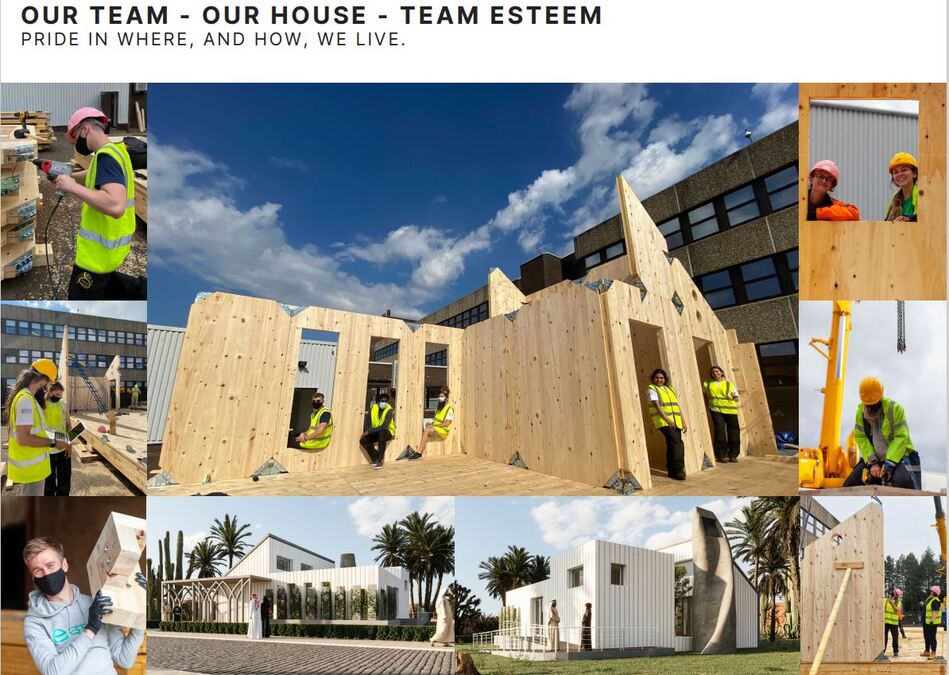 A team of students has commenced construction on the build of a solar powered timber house at Heriot-Watt University's campus.
Team ESTEEM, made up of over 130 students from the university's Edinburgh and Dubai campuses, are building the house as part of the world's largest design and construction competition.
Their aim is to build and submit an innovative eco-friendly smart home of the future powered solely with solar energy to the Solar Decathlon Middle East (SDME) competition. The tournament runs in conjunction with Expo2021 in Dubai, which has an estimated 15-25 million visitors.
They are the only UK entry, with an additional 18 worldwide universities also taking part. The house was due to be completed last September, but Covid-19 restrictions took hold and some of the students had to return home. However, work is back underway and progressing.
Jairis Alvarez, marketing and communications team leader for Team ESTEEM, said, "When Covid hit we were all left wondering if the competition would still go ahead. But as soon as we knew SDME was postponed a year, we knew it gave us an opportunity to better improve our project as well as to gain new sponsors.
"The innovative home is powered solely with solar energy and is structurally made from locally grown Scottish timber panels – which is a UK first – alongside other ground breaking technologies including AI integration and intelligent cooling solutions.
"It has been fantastic to get construction on our prototype underway and we would like to thank all of our sponsors and partners for their magnificent support.
"We go to Dubai confident that we can get the win."
Alex MacLaren, SDME faculty lead and associate professor of architecture, added, "Constructing the prototype at the Edinburgh campus is an adventure all of itself. This is the first time this Scottish mass timber, using this system, and with these innovative materials and systems, has ever been constructed.
"The students have done the drawings, placed the orders, then helped in the factory to manufacture but only now, as it takes shape in 3D, is that really becoming a reality. The construction phase in Scotland has engaged more than 30 students from across multiple disciplines and levels of study; and from locals fitting in shifts between their summer jobs, to overseas students here to learn.
"The student team has made the impossible possible during the pandemic; and we are now seeing the fruits of their labour. I am so proud to be working with these young professionals."
The construction site itself is student-led, with Jessica Haskett (MEng architectural engineering, graduated 2021) managing the day-to-day activity on behalf of the team and revelling in the learning opportunity. She said, "Team ESTEEM has connected me with so many industry professionals and I have worked with many companies- a truly unique experience."
Team Esteem's crowdfunding campaign can be accessed by clicking here, with funds being raised to cover the following expenses:
Cost of Green eco-friendly, natural renewable Hemp insulation – £5k
Cost of timber fixings and connections – £5k
Cost of landscaping and green walling solutions – £5k