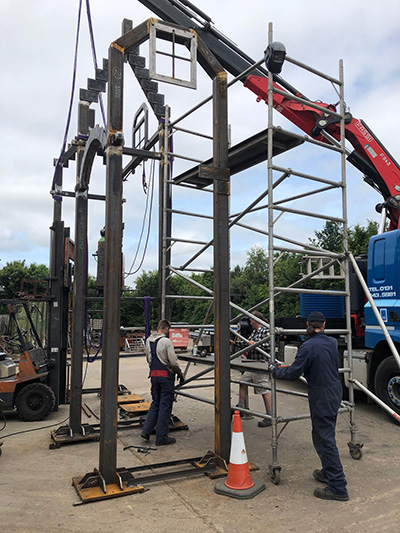 A steel art installation inspired by drawings by local children is set to be installed at Letham Mains in Haddington.
Launching officially in early August at the new civic square – part of the Letham Mains masterplan – the 3D installation has been built by forged steelwork company Ratho Byres.
After being contacted on behalf of a consortium of developers by CALA Homes in 2018, the artist blacksmiths worked with local schools and the council arts officer to come up with the final design, based on a streetscape of the market town.
Ratho Byres took inspiration from postcards drawn by local pupils describing what Haddington meant to them.
Pete Hill, an artist blacksmith at Ratho Byres, said, "This has been in the works for a few years now so it's exciting to finally be completing work on the build. Working with the arts officers and the schools was fantastic – the range of imaginative ideas the kids came up with covered everything from the swans on the river to the Victorian style architecture.
"We've gone for a streetscape design which looks really impressive. It's going to be twelve metres wide and six metres tall. The foundations have been laid and we can't wait for the reveal in the coming weeks – and for the local kids to be able to revisit it and see their vision come to life."
Speaking on behalf of the consortium, which also includes Taylor Wimpey, Allanwater, Mactaggart & Mickel and Stewart Milne, David Main, surveying manager with CALA Homes (East) said, "It's been a pleasure working with Ratho Byres Forge to create a landmark piece of artwork at the civic square at Letham. Working with the local schools and local council, they've been able to bring to life what Haddington means to the children of the community – we look forward to seeing their reactions when they see it for the first time."
The Letham Mains masterplan was approved in 2017, bringing more than 800 new homes, a primary school, sports pitch, linear park and a distributor road linking Pencaitland Road with West Road.