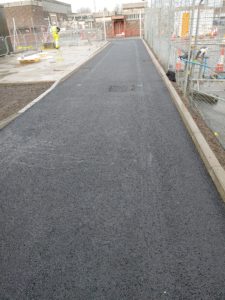 A revolutionary new tarmac product made from discarded plastic has been used in a major Scottish Water regeneration project in Glasgow.
Over 414 kg of plastic waste – the equivalent of 105,000 plastic bags – was used by the utility firm and FES Group to create a temporary access road to a new energy centre in Glasgow's east end.
The energy centre, based at Scottish Water's Dalmarnock waste water treatment works, is part of a larger district heat network project which will deliver low carbon energy to the Clyde Gateway regeneration and innovation district.
The plastic tarmac used in the project is manufactured and supplied by Lockerbie firm, MacRebur. The plastic is added to asphalt – the sticky black liquid used to build roads – by combining specially selected polymers with an activator developed to create the tarmac, which reduces plastic pollution and has been proven to 'significantly' improve road durability.
Due to the type of plastics selected for use, their melting point allows them to chemically bond with asphalt – resulting in an inseparable mixture which Scottish Water said has been rigorously proven to stop microplastics from entering local water courses.
Charles Easton, support services director at FES, said, "The FES Group are consistently striving to deliver innovations that challenge traditional construction methods while meeting functional requirements. The plastic road solution is a great example of FES and Scottish Water Horizons collectively pushing the boundaries of sustainable design and construction during another successful green energy project."
Finn Hall, civil engineer at MacRebur, added, "The shared values of sustainability between parties meant this project was an outstanding success, and the commitment to achieving net zero through this project is admirable."
Donald MacBrayne, business development manager at Scottish Water Horizons, said, "We've partnered with FES on a number of projects so they understand how important it is to us to support sustainable infrastructure and do everything we can to help protect the environment.
"The plastic road at our Dalmarnock project has been a great success and showcases the incredible innovation which is happening to help protect our planet.
"We're committed to supporting Scotland's Net Zero Carbon ambitions, and our Clyde Gateway district heat network is just one of the ways we're helping to do this."