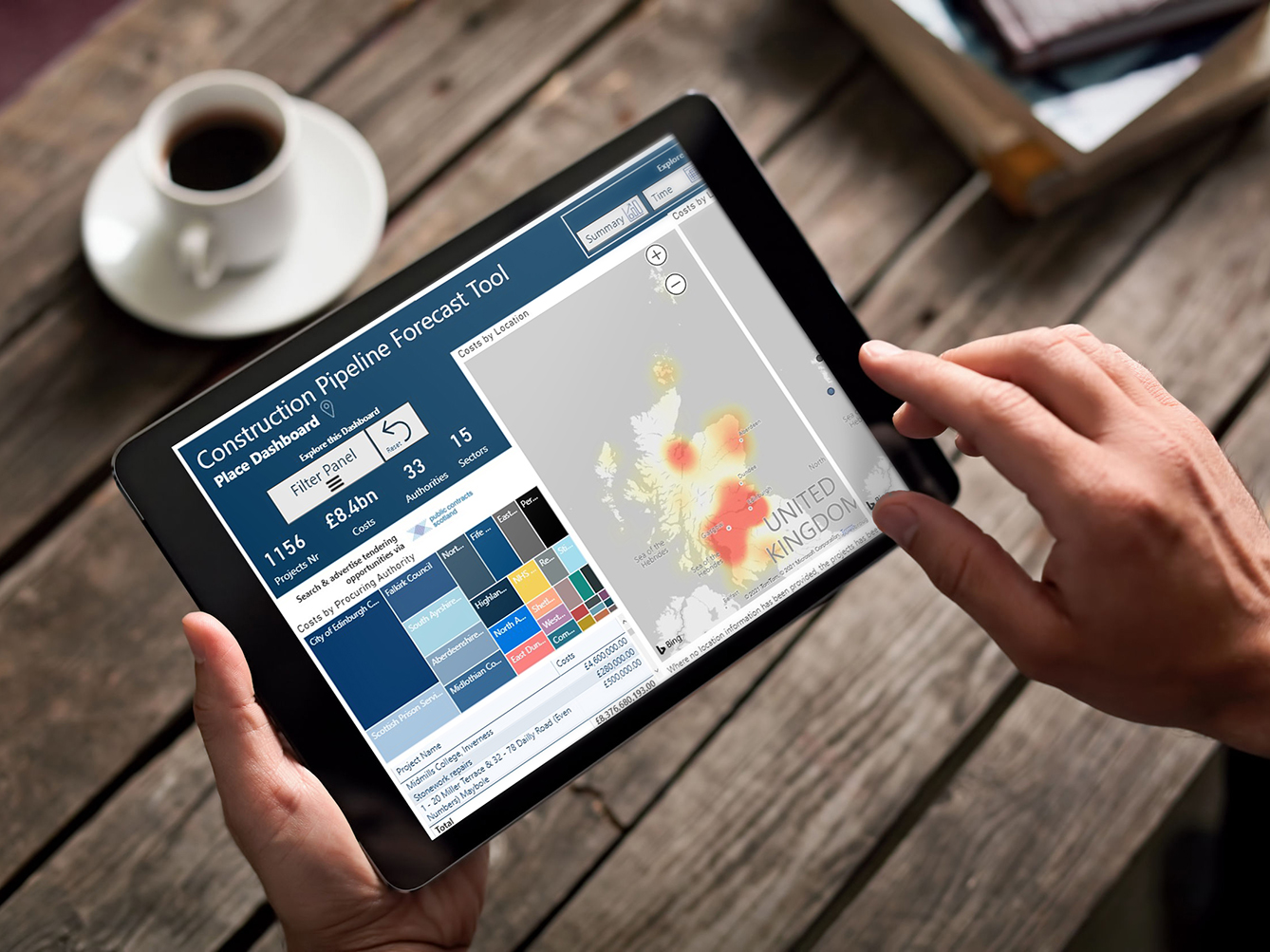 A new online tool has been launched, designed to give the Scottish construction industry  greater clarity of future public sector projects.
The Construction Pipeline Forecast Tool has been developed by the Scottish Futures Trust in partnership with the public sector and representatives from the construction industry.
The tool has been created in response to actions coming from the Construction Industry Recovery Plan published last October by the Scottish Construction Leadership Forum.
With a current value of just under £8.5 billion, the Construction Pipeline Forecast Tool includes details of over 1,150 future public sector infrastructure projects and covers sectors including education, health, housing and flood prevention.
SMEs have been tipped to benefit from the initiative, with around 60% of the projects below £2 million in value.
The hope is that by providing greater transparency on future workload, businesses will be able to plan better and maintain their investment in skills and training. It is also designed to encourage collaboration between public sector organisations through a greater understanding of their respective construction pipelines.
Peter Reekie, chief executive of the Scottish Futures Trust (SFT) and chair of the executive group of the Scottish Construction Leadership Forum, said, "Providing businesses working in the construction sector with this detailed information creates greater confidence through improved project transparency. As a result, it will allow businesses to invest correctly and recruit accordingly, as well as build stronger partnerships within supply chains.
"Through being a key partner in the Scottish Construction Leadership Forum, SFT took responsibility to deliver the Construction Pipeline Forecast Tool, one of the actions coming from the Construction Industry Recovery Plan which was published in October 2020 in response to Covid-19.
"Building the Construction Pipeline Forecast Tool was met with strong levels of engagement across the whole of the public sector, which has been greatly appreciated, and we look forward to continuing to work with the sector on this leading-edge development."
Ivan McKee, Scottish Government minister for business, trade, tourism and enterprise, said, "This is a crucial time for business, trade and investment in Scotland and we are pushing forward with an ambitious agenda of recovery and economic transformation.  Construction will play a key part in that recovery, delivering critical infrastructure and supporting our important net zero commitments. By working together and galvanising the expertise and ingenuity of the construction industry, we can enhance Scotland's economic potential and deliver greater, greener and fairer prosperity.
"This online tool will provide businesses with the pipeline visibility they need to plan investment in skills, labour and materials which will support jobs and business growth.  It also delivers new opportunities for small and medium sized business across the sector by providing visibility of smaller contracts.  This key ask from industry has been delivered through the Construction Leadership Forum Recovery Plan – demonstrating how we can work together to deliver the changes the sector needs. This is just the start of an exciting process and I encourage other public bodies to share their data to broaden their market access."
Stuart Parker, member of the Construction Scotland Industry Leadership Group and chair of its procurement sub-group, commented, "The Construction Pipeline Forecast tool is a really exciting development for the industry, bringing together details of the upcoming opportunities in the sector in one user-friendly format. It will really help the industry to understand the direction of travel in social infrastructure, providing confidence to invest in the resources and skills needed to help the country rebuild better. The tool will help to provide visibility of opportunity to businesses of all sizes, but particularly SMEs throughout the supply chain."