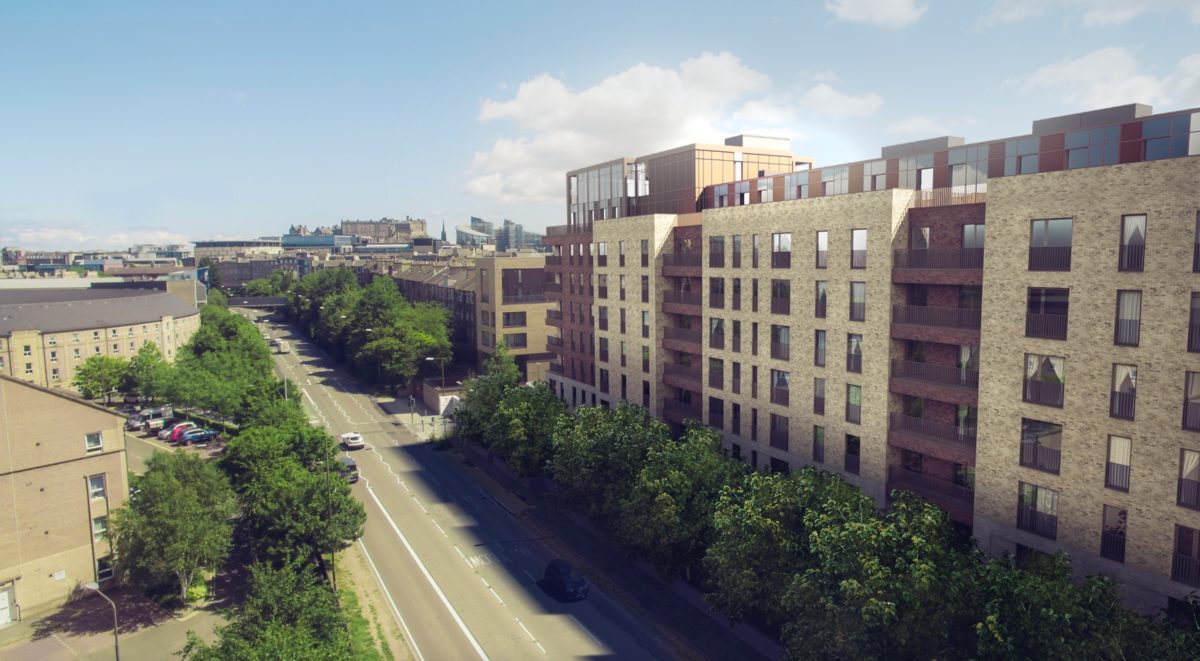 RENTAL housing specialist Moda, with joint venture partner Apache Capital Partners, has announced that its upcoming Edinburgh development has become the first residential project in Europe to achieve Fitwel 3-star certification.
By making wellbeing 'intrinsic' to the design and operation of the building, Moda Edinburgh has attained a top score.
Moda explained the development, which is due to open later this year and is being funded by a joint venture between Apache Capital, Harrison Street and NFU Mutual, includes 'top-tier' amenities, innovations and service offerings that are recognised by Fitwel as 'essential' to improving residents' health and wellbeing.
The property will feature 476 rental apartments with access to 45,000 sq. ft. of amenity space including a gym, indoor and outdoor fitness classes, landscaped gardens and terraces, personal trainers, and specialist nutrition and wellbeing experts on demand. The development will also boast flexible co-working spaces, a roof terrace and cycle storage and maintenance.
Every apartment will have pocket sprung mattresses made from 100% natural materials, as well as noise cancelling walls five decibels above current building regulations.
Moda has also partnered with MYNDUP, a tech-based support system that provides access to mental health professionals. Wellbeing workshops, cinema screenings, educational talks and yoga classes are also tipped to bring residents together and inspire 'genuine human connection', the firm added.
Lydia Eustace, marketing director and head of wellbeing at Moda, said, "At Moda we're committed to making healthy living achievable for even the most 'time poor' residents. We're thrilled to be the first, and only, residential development in Europe to achieve a Fitwel 3-star rating, meaning the residents moving into Moda Edinburgh this year will live in a community that has been carefully designed to foster their health and wellbeing."
Joanna Frank, president and CEO of the Center for Active Design, which operates and maintains the Fitwel standard, said, "Moda Edinburgh's impressive 3-star Fitwel Certification demonstrates its commitment to being a leader in the healthy building movement. Moda Edinburgh is a model for the future of healthy living and we commend the team for creating an environment that prioritises both mental and physical health and wellbeing."
Ben Chittick, director of asset management at Harrison Street, said, "We're proud to announce the new Moda Edinburgh development is the first residential building in Europe to be awarded a 3-star Fitwel rating. This certification is representative of Moda and Harrison Street's commitment to creating people-first developments with well-being at the core. We're looking forward to completion later this year when the residents can experience the benefits of living in a building that is Fitwel certified."
John Dunkerley, co-founder and CEO at Apache Capital Partners, commented, "We are proud to be helping deliver Moda Edinburgh, a development with wellbeing at its core. The Fitwel 3-rating achieved for Moda Edinburgh is a reflection of the hard work the teams have put into the design and operational strategy to create somewhere that truly supports personal health and well-being. Post-pandemic, we expect mental and physical health and well-being to be not only a key concern for our potential customers but also a core part of investors' ESG considerations."