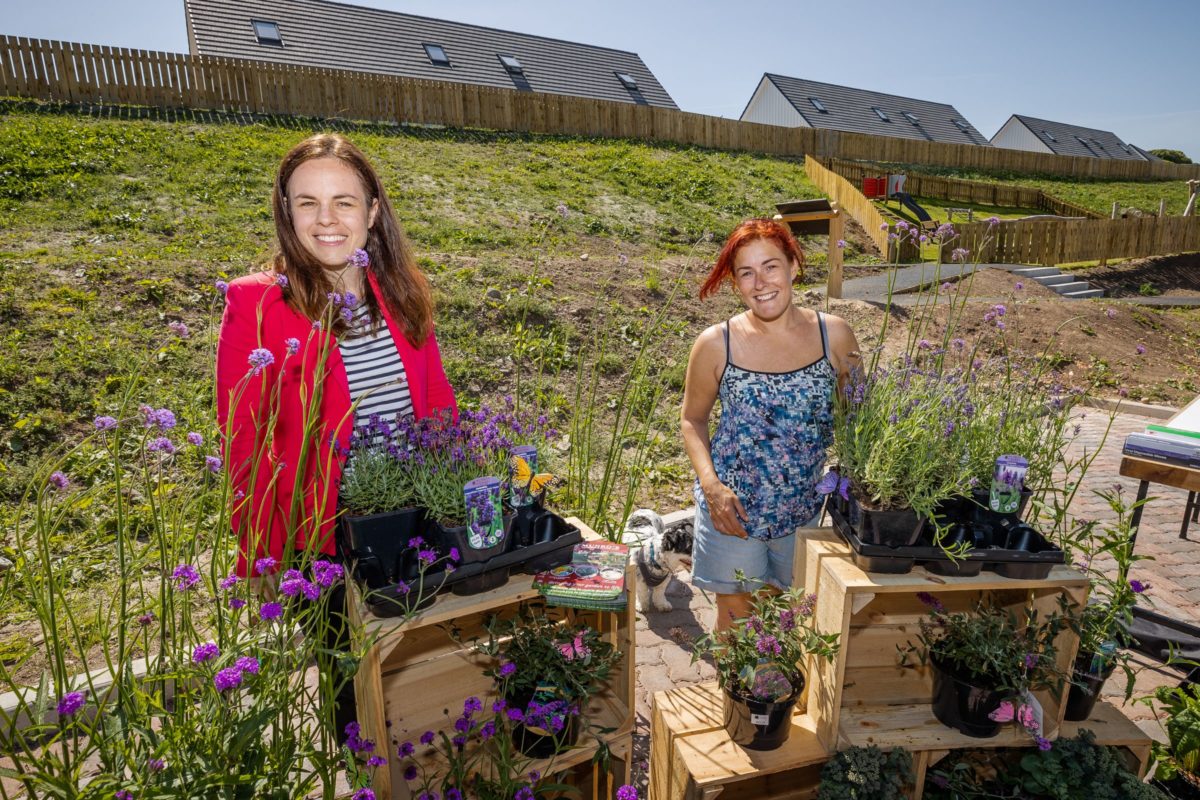 A 46-home housing development, delivered by HHA and Cairn Housing Association, has officially opened in the village of Avoch.
Finance secretary Kate Forbes joined locals at the Mannsfield Place development for the unveiling of the site, which was marked with a biodiversity themed day where residents were gifted butterfly-friendly plants and seeds, while representatives from local garden centre and coffee shop, Munro's Nurseries, shared gardening tips. Ms Forbes sowed seeds amongst the wildflower grass which has been planted across the site to encourage biodiversity and pollination.
Part-funded by the Scottish Government, Cairn, HHA and the Inverness City Region Deal as well as private finance, 12 three-bedroom homes have been developed by HHA for mid-market rent, and the remaining 34 allocated for social rent, which will be managed by Cairn.
Inverness-headquartered contractor WGC (Scotland) has completed phase one of the site which was recently handed over to the tenants, with phase two reaching completion and expected to be handed over at the end of July.
Gail Matheson, chief executive of HHA, said, "Despite the challenging environment we've all faced over the last year, we are incredibly pleased to see the Avoch development reach completion. It really is a testament to how clever collaboration between parties can create a force for good. Unsurprisingly, the development has already received a significant level of interest with all homes now occupied, and we're very pleased to welcome Ms Forbes on site today to see our efforts culminate.
"HHA has ambitious plans to help bridge the gap of providing high quality mid-market rental homes, which are in high demand, over the next five years and we look forward to working with more private and public sector partners to drive positive change across the Highlands."
Don Jamieson, chair of the Cairn board, added, "There is a clear need for good quality, affordable rented homes and Cairn is delighted to see the completion of this great development at Avoch. Cairn is all about great homes, great services and great people; and we are pleased to welcome tenants to their new homes and wish them years of happiness and security as Cairn tenants. Delivering this development has been a real team effort and my thanks go to the staff team at Cairn who managed the project and to our partners at HHA, WGC and the Scottish Government."
Kate Forbes MSP commented, "Housing is probably one of the most frequently raised issues with me, showing how important it is, and as the constituency MSP for the Black Isle I am well aware of the pressures locally. If we want families, and especially our young people, to remain in the Highlands then it is absolutely critical that they have access to warm, safe and affordable homes. Against that backdrop I am delighted to see the new development in Avoch officially opening and it was a privilege for me to be on site meeting new residents as well as some of the construction team who made the homes a reality."
Dougal Murray, MD at WGC Scotland, added, "WGC (Scotland) is pleased to have been able to negotiate and deliver much needed social housing for the Black Isle community despite challenging operating conditions. We have enjoyed working closely with Cairn and HHA, as well as the wider design team members to deliver outstanding new homes for the region."