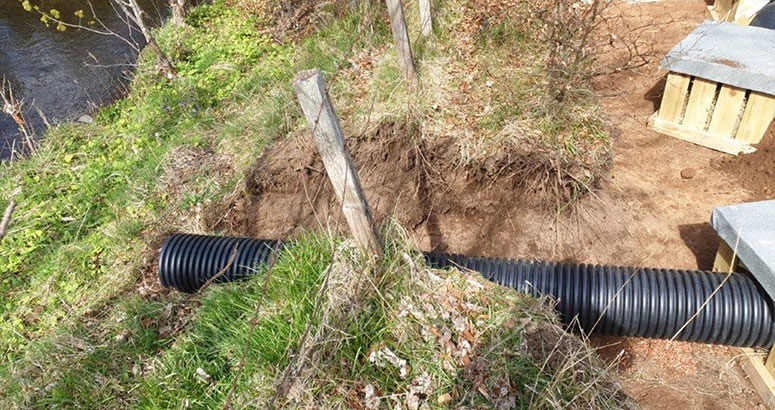 SCOTTISH Water engineers have created an artificial replica sett for a clan of badgers discovered on a site marked for construction works.
The animals were found during the water services firm's work to improve the environment and quality of the Water of Leith.
The project involves installing new and improved wastewater infrastructure to help prevent items which are wrongly flushed down toilets from overflowing into the river during severe storm events.
A badger sett was identified early on during the initial site investigations, with Scottish Water determining that it was unfortunately located at a point where it could potentially be damaged by construction works.
The firm takes the protection of the local environment 'extremely seriously' and work to ensure that the local wildlife and their habitats are protected. As a result, an artificial replica sett was created using large plastic pipes acting as tunnels, and wooden square boxes being made into living spaces for the badgers – a total of six entrance chambers and five entrance locations were installed, all of which are interconnected. A number of pipes were also left with blank ends to encourage the animals to extend the sett.

Straw and peanuts were left out to help entice the badgers into their new home. By the first night, the clan had already investigated the man-made abode and within a week video footage caught the badgers settling in their new home.
Scottish Water said that it expects that the badgers will stay in their man-made home until the works are completed, with the old sett to be opened back up for them to return once works are complete.
Richard Gregory, environmental advisor at Scottish Water, said, "It is notoriously difficult to move badgers from their chosen sett location so it is extremely encouraging that they have taken to the new sett so readily."
Colin Freeland, site manager for amey binnies, the firm aiding Scottish Water on the project, added, "We are really pleased to see that the badgers have made themselves comfortable in their new sett and are hopeful that they decide to stay and make what we have dubbed 'No.1 Riverside' their permanent abode"