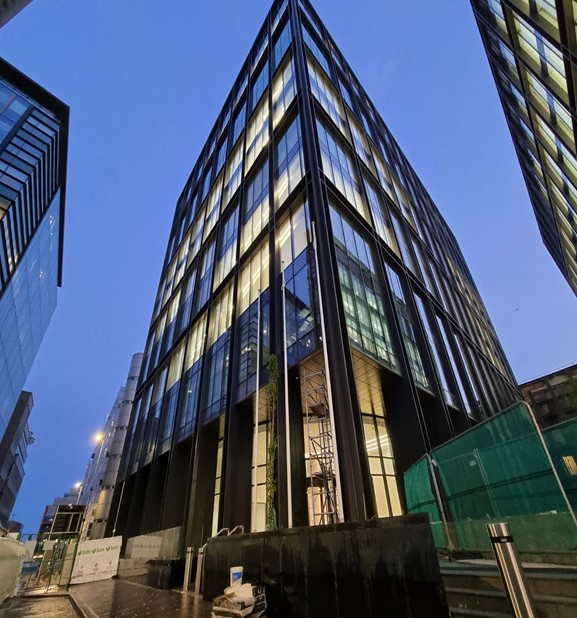 BAMTCP Atlantic Square has handed over the keys to Building 1, Atlantic Square in Glasgow's International Financial Services District to HMRC.
A joint venture between BAM Properties and TCP Developments, along with LGIM Real Assets (Legal & General) who forward funded the ten-storey Grade A building, the facility will be the second UK Government hub in Scotland and home to HMRC's Glasgow regional centre.
Some 2,500 HMRC staff will begin relocating from a number of existing offices in early 2022.
Built by BAM Construction and designed by Cooper Cromar and BAM Design, the building incorporates the retained Grade A façade of a former warehouse building built by retailer William Whitley in the 19th century. It boasts a BREEAM 'Excellent' rating and has an EPC rating of 'A'.
HMRC is adopting digital and data modelling to eliminate construction risk and help plan the maintenance regime for the building.
Using VR goggles, the construction and design teams together with HMRC's estate team, were able to monitor the progress by looking at the building's digital twin. This enabled them to understand the building's operations and look at efficiencies. The UK Government is looking to adopt this approach throughout other public sector buildings including hospitals and schools.
Dougie Peters, MD of BAM Properties, said, "After a challenging year we are delighted to be handing over the keys to Atlantic Square to HMRC and all the teams involved are very proud of the end result which is an impressive addition to Glasgow's property landscape. It has been pioneering in many ways and without doubt the digital input will change the way forward for building construction. HMRC is to be applauded for having the vision and drive to embrace this new way of working which has created so many benefits."
Atlantic Square also features Building 2, which will provide 96,650 sq ft of additional office accommodation. Speculatively built by BAM Properties and TCP Developments it offers floor plates of up to 15,400 sq ft and facilities will also include a tenant's business lounge and meeting spaces, as well as showers, lockers and storage facilities for cyclists and runners. Negotiations are currently underway with potential occupiers.