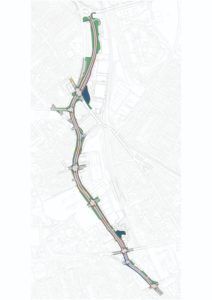 A project to 'vastly' reduce traffic in north Aberdeen has progressed after Scottish ministers gave the go-ahead for the city's council to proceed with a compulsory purchase order.
Transport Scotland will now write to the relevant bodies informing them of the decision which permits the local authority to acquire the identified land required for the works.
The project will be a 'major' upgrade to the city's Berryden Corridor, with Berryden Road and nearby routes operating beyond capacity leading to 'significant' congestion and journey time delays.
Last August, planning permission was given for formation of a section of the road with associated footways, cycle tracks, street lighting, drainage, landscaping, earthworks and associated works for the section from Kittybrewster/St Machar roundabout to Ashgrove Road.
The local authority said that the project will not only improve the efficiency of the road, but also the cycleway and pavement network through improving journey time reliability, relieving congestion, and improving infrastructure for walking and cycling.
Aberdeen City Council transport spokesperson, councillor Sandra MacDonald, said, "This is fantastic news for the Berryden Corridor improvement project and is a significant step forward. This project which will help journey time reliability, relieve congestion, and improve infrastructure for walking and cycling, and is part of a wider scheme for improving the roads network across the city."