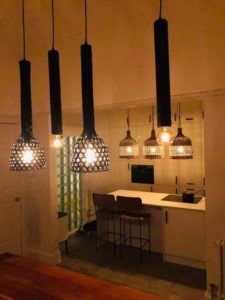 A family construction firm has won a top industry award for its 'outstanding' work on a Bridge of Allan kitchen renovation.
Kevin Wilson Joiners & Building Contractors was awarded the best kitchen project honour by the Federation of Master Builders' (FMB) Scotland.
The renovation was carried out by the team led by Kevin and Pam Wilson who founded the Bridge of Allan-based company 14 years ago.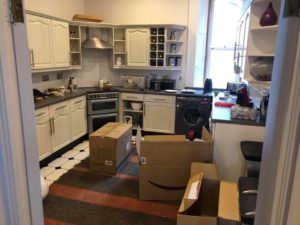 Mrs Wilson said, "We're so pleased to have won the award for this project – the client was delighted with the end results and it also means a lot because Kevin and I carried out a lot of the kitchen fitting work together alongside our brilliant team.
"We enjoy working together and it's comforting to know, that after such a difficult year, we can do fantastic things and make a real difference to our clients.
"Lockdown has been really tough for all of us in the building trade – we were closed down for months and even now it's still proving difficult to source materials due to supply issues.
"So the FMB awards, and the virtual ceremony, were an amazing boost for everyone involved – there was a real sense of camaraderie and it was good to have some fun and light relief after a difficult year.
"The kitchen renovation was quite a challenging job with various issues to overcome – but Pam, our team of employees and contractors and I all work well together and we got the job done promptly for the client.
"There was some stiff competition for our award category and some impressive projects were shortlisted for Best Kitchen so we were delighted to be named the winner.
"We know ourselves that we always strive to give 100%, do a good job and ensure our clients are happy – but it means such a lot when this is recognised and validated by our industry body."
The kitchen renovation project took place in Henderson Street, Bridge of Allan and required the blocking of a window, replacement of an existing doorway and the addition of bespoke kitchen units.
The homeowners, Amanda and Don McIntyre, were delighted with the firm's efforts which transformed their kitchen leaving it with plenty of storage space and a fresh new look.
Mrs McIntyre said in a testimonial submitted for the award, "What you have helped us achieve is just outstanding quality and service and we are indebted to you.
"We needed builders and project managers who we could 100% trust and depend on to bring the project in on time with the minimum amount of disruption to day-to-day life.
"We were a little concerned whether anyone could meet our potentially unrealistic standards – but you and your team exceeded expectations. What we had prepared for as a stressful and hectic build process was a seamless engagement and reasonably stress free.
"You are absolutely 'can do' people who were professional, positive, kind and polite and you helped us bring to life the range of visions we had for the space and supported our excitement by sharing your joy in being involved."
The biennial FMB Awards celebrate the achievements of firms from across the UK showcasing examples of high-quality craftsmanship, top customer service and building excellence.
The prestigious honours aim to recognise the contribution small and medium-sized companies make to the UK construction industry. Any project entered by a builder is required to be backed up by the client involved, who must testify they delivered exceptional results, and is assessed by a team of judges.
Gordon Nelson, director of FMB Scotland, commented, "Once again, I am struck by the sheer quality of the projects delivered by Master Builders in Scotland. Congratulations to Kevin Wilson Joiners & Building Contractors on winning the Kitchen Project award for Scotland.
"This was a very competitive category and our independent judges had a difficult time in assessing each nomination. The team should feel justly proud of their achievement in winning and we wish the firm every success in the national competition."