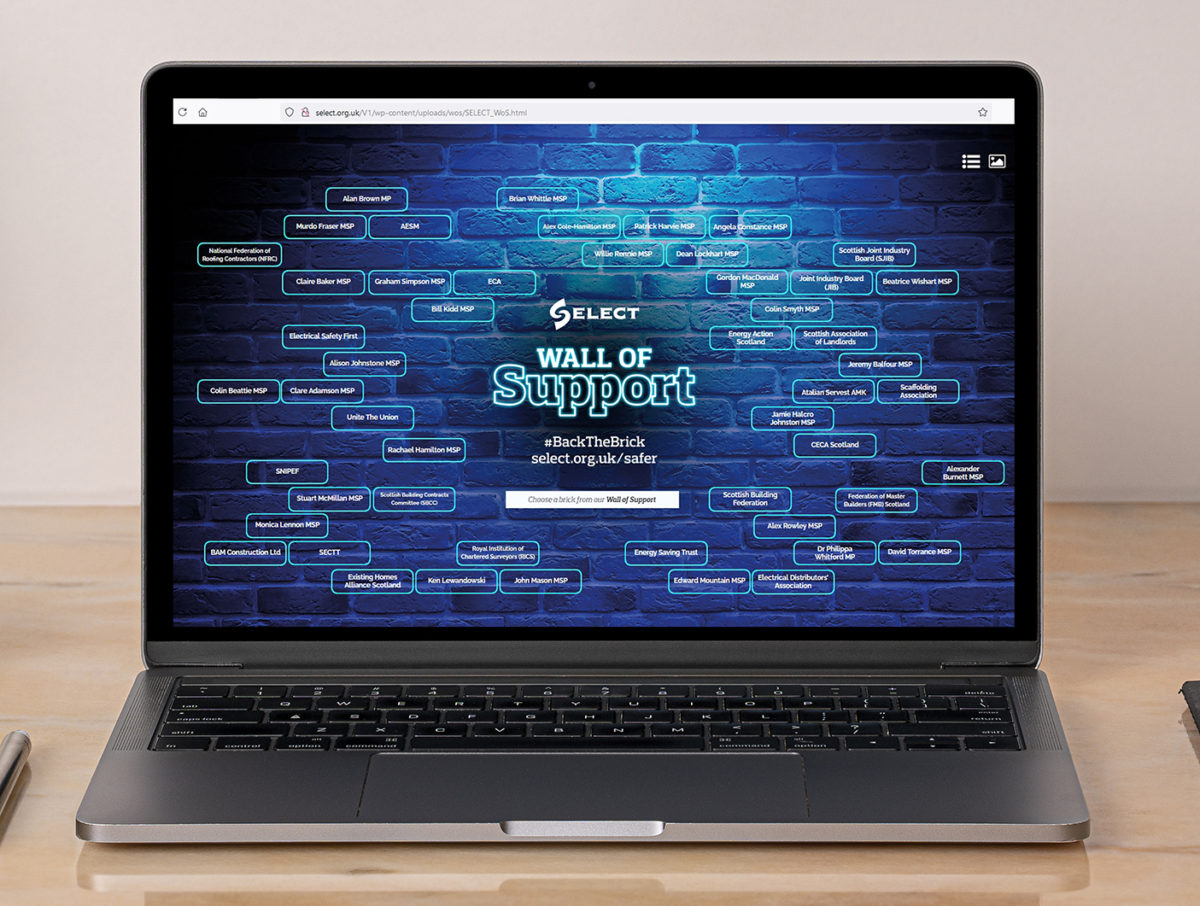 TRADE body SELECT has revealed a number of new additions to its Wall of Support which promotes its campaign for regulation of the electrical industry.
The organisation said it has responded to demand from those in the industry by allowing qualified electricians to add a digital 'brick' to the online resource to show their support for protection of title.
Several electrical businesses and individual electricians have added their names to show support, including:
Atalian Servest AMK
Stensons
John Noble Electrical Contractors Ltd.
Calder Electrical
David W H Smith Heating and Electrical Services
E Rae & Son
A E S Electrical Ltd
Robert A S Crockett & Partners Ltd
Unitech Services Ltd
Macform Ltd
Ness Electrical
2 Core Electrics
Alistair Grant Electrical
Powertec Electrotechnical Services Ltd
Logic Systems
Electro Installations (Scotland) Ltd
GP Services (Dumfries)
Trade bodies the National Federation of Roofing Contractors and The Scaffolding Association have also added their names to the online Wall.
The new signatories join more than 50 politicians, trade unions, professional bodies and other organisations that have already given their backing for SELECT's campaign for regulation of the industry. The aim is for legislation to make it an offence for someone to call themselves an electrician when they have no, or inadequate, qualifications.
Alan Wilson, MD of SELECT, said, "We are delighted that these key organisations, electrical businesses and individual electricians have joined our campaign by showing public support for regulation of the industry. Our campaign has already made a huge impact, not least in its progress through the Scottish Parliament, and it is imperative that we continue to build momentum. To this end, we are widening access to the Wall of Support, in order that that the groundswell of opinion in favour of regulation which we know is out there is able to achieve its maximum expression.
"By taking a brick in the Wall, individuals and businesses will be able to show the strength of feeling that exists over this issue and the immediate need to improve safety for both domestic and commercial consumers across Scotland."