A successful public art project which encouraged more use of a previously quiet area under Tay Road Bridge is set for a second phase, Dundee City Council has announced.
Almost £25,000 has been agreed to support the painting of pillars and pavement, as well as installing new lighting beneath the bridge at Riverside Esplanade.
Councillor Lynne Short, chair of the Tay Road Bridge joint board, said, "When the first phase was painted a number of years ago it brightened up what was at that point a grey functional part of the bridge's landfall. That encouraged people to come and see the artwork for themselves and spend time in what has become something of a hidden gem in the city's public artwork portfolio.
"Commissioning a second phase from the same two artists will offer more thought provoking, exciting and colourful work making the bridge Insta-ready day and night."
University of Dundee art graduates, Fraser Gray and Martin McGuinness, have been brought on board to plan an extension to the original compass theme – with each pillar set to have its own colour, which the council said will blend together to create a 3D gradient when viewed from a distance.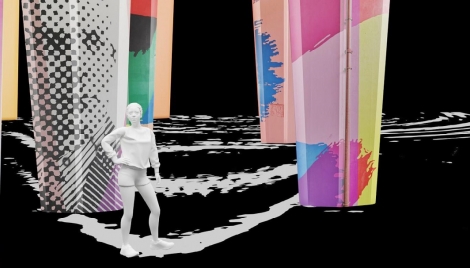 The colour gradient will be incorporated into the existing mural and will be designed to complement the existing paintwork. The local authority added that colours have been carefully chosen to harmonise with those previously used so as not to detract from the existing forced perspective illusions.
Meanwhile on the ground, a wave pattern to mimic the reflections of the river on the underside of the carriageway has been designed using 3D software to create accurate ripples that interact with the bridge's pillars.
The council said that the ripples have been designed and painted to offer a 'unique' photographic background. When standing in the right place, it will appear as if the person posing has left the ripples in the water behind them as they have moved through the space.
Coloured gels will also be installed to pre-existing lighting to transform the space into a fun, playful and safe feeling space at night. The floor painting and lighting are designed to work together creating coloured shadows which move and change as visitors walk around the space.
The council said that Work is expected to start on the installation next week (beginning July 5) and be completed by the end of August.