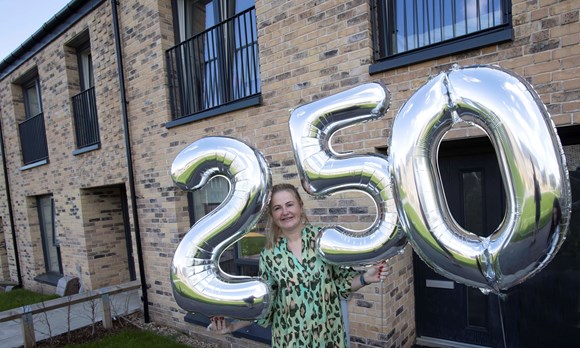 THE City of Edinburgh Council is celebrating hitting a key milestone of more than 250 families now being in affordable homes via the Edinburgh Living initiative.
The local authority launched Edinburgh Living in 2019 in a bid to address the lack of affordable housing in the capital, with it offering mid-market rent homes to households on low to middle incomes.
Now in eight sites across the city, Edinburgh's 250th tenant moved into their new home in Craigmillar last month. The council said that it has ambitions to grow Edinburgh Living to a point where it is providing 1,500 new mid-market rent and market rent homes over the next few years.
Councillor Kate Campbell, Edinburgh's housing, homelessness and fair work convener, said, "Hitting this big milestone and now having 250 family households in safe, warm and affordable homes, with more homes being identified to double that figure by the end of next year is just fantastic. Also hearing what a difference these bright and modern homes are making to people's lives is the reason we started this programme in the first place.
"Making sure everyone has access to an affordable and energy efficient place to live has long been our priority. We have ambitious plans to grow the number of properties we own which we'll do by purchasing homes, and by building homes through own housing development programme, delivering 20,000 affordable homes by 2027.
"As a Council we're also committed to ending poverty, becoming more sustainable, while helping to foster greater wellbeing and inclusion, and so Edinburgh Living is just one of the ways we're doing that for our residents and the city of Edinburgh."
Danielle Beatson, 42, who has recently moved into a three-bedroom home with her partner and three children, said, "We love our new home; it's in the perfect area and is so spacious. The community is great; it's a really family-friendly area, and my children are often outside playing with friends.
"Our landlord was selling the home we were renting and we were struggling to find another suitable property at short notice. Mid-market rent was a fantastic, affordable option for us. The application process was simple, and we were able to move in quickly after applying."
"We feel so settled and secure now; my partner and I are really happy, and so are the kids, which is brilliant."