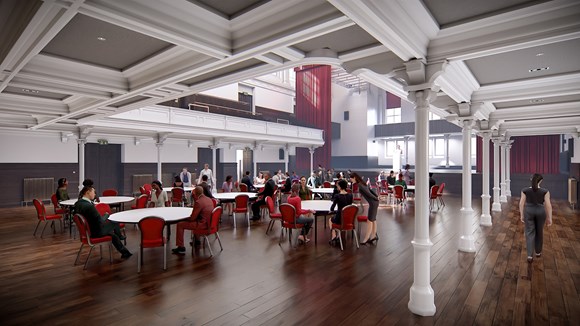 A fly-through video has been released offering a look at how Paisley's A-listed Town Hall will look following a £22 million transformation into a major entertainment venue.
The Victorian-era town hall is currently undergoing a redevelopment to preserve it for future generations. The CGI animation, produced by Glasgow-based studio Visual Lane and the project's architects Holmes Miller, shows a day and night in the life of the building, including how it would look hosting a wedding, conference, screening, and music concert.
Contractor Morrison Construction is currently on site, with work due to finish in late 2022 and the building set to reopen in early 2023.
Councillor Lisa-Marie Hughes, chair of Renfrewshire Leisure Ltd, which will operate the reopened building, said, "We are delighted to reveal this animation, which will give the people of Paisley and beyond their first real look at what their town hall will look like once back in use. Everyone in Paisley will have their own special memories of the town hall – and the work we are doing now will preserve that history and make sure future generations can have the same. At the same time, the town hall is a key project within the council's wider investment in the town aimed at using Paisley's internationally-significant cultural and heritage offer to change its future."
The town hall redevelopment is set to preserve its 19th century architectural features while adding modern performance facilities. Capacity of the main hall will be expanded to 1,200, allowing the venue to host bigger events. New rooms will be created within currently unused spaces, including a café-bar, dance studio, and screening room. New performance facilities will also be delivered as well as a complete replacement of the venue's electrical and mechanical systems.