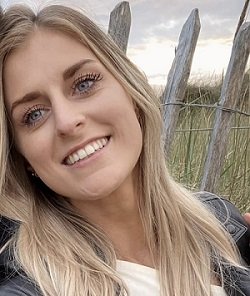 A University of Strathclyde student has helped a global oil and gas firm cut waste by repurposing its old personal protective equipment (PPE).
Employing over 20,000 people worldwide, TechnipFMC goes through large amounts of PPE – which, ordinarily, was sent to landfill at the end of its useful life.
However, as part of a class assignment, Strathclyde Department of Civil and Environmental Engineering student Louise Thomson came up with the solution of sending old protective overalls to survival training centres to be used as insulation layers during exercises.
The firm now returns the old overalls to its supplier, Ross Safety & Survival, who remove the company branding then send them onto safety training centre operators within the Fire Training Group – including Nutec, RelyOnNutec, Evolve and Array Training.
Louise, who is from Dunoon, explained, "Recycling of the overalls was a possible route however, after much research and discussion, it was decided reuse was the better option as it proved to be more environmentally friendly and easier to carry out in the time period given for the project.
"With TechnipFMC and Ross Safety & Survival based in Aberdeen along with many survival training centres it made sense to reach out to them.
"Ross Safety & Survival has received in excess of 800 coveralls to donate, so I am still working on finding more survival centres interested in taking some coveralls but knowing that, as a team, we have managed to get more than 500 coveralls rehomed for reuse rather than sent to landfill as waste is a fantastic feeling!
"I'd love to see more companies reusing their PPE in this kind of way across industry and will consider options for promoting this as part of my assignment."
Jenny Davidson of RelyOn Nutec, added, "RelyOn Nutec were very grateful to receive a large donation of coveralls from TechnipFMC. We welcome multiple delegates to our facilities every week and so our kit receives constant wear and requires regular replacement.
"This donation of good quality coveralls should last us for a considerable amount of time and has helped us to make welcome cost reductions as we recover from the pandemic. This particular shipment has even had a use that goes beyond our usual training delivery when we used them for a recent photoshoot."
Louise, who also runs her own sustainable activewear company – White Pepper Apparel – recently won £500 in a company creation competition ran by the University of Strathclyde and is currently looking at other schemes to raise funding for future sustainable initiatives.