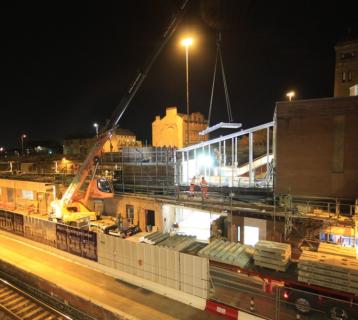 THE £14.5 million transformation of Motherwell Station is on track to be completed later this year, ScotRail has announced.
The organisation said that 'great' progress has been made on the Balfour Beatty-led project, with it attributing nightshift and weekend working as one of the drivers behind the advancements.
The works will deliver a reconfigured station forecourt, an enhanced main building with a glazed roof and larger concourse, as well as an expanded bus service and public realm improvements.
Work on the mezzanine corridor, which will act as the main artery between the concourse and platforms two and three, has been completed. A pre-cast staircase has also been installed in the stairwell in the mezzanine corridor.
ScotRail said that it was an 'incredibly intricate' manoeuvre to lower the staircase into the steel frame by crane, with works now progressing to encapsulate the steel frame and form the corridor building.
The timber frames for the new roof parapets on top of the British Transport Police and administration buildings, which will provide safe access for maintenance, are also now complete. Works for the foundation to the new accessible ramp for the new customer waiting room on platforms two and three have also commenced.
ScotRail said, "In the last few weeks, we've seen lots of different trades on the site, from bricklayers to joiners, steel erectors and electricians, and passers-by will have noticed a change to how the station looks."