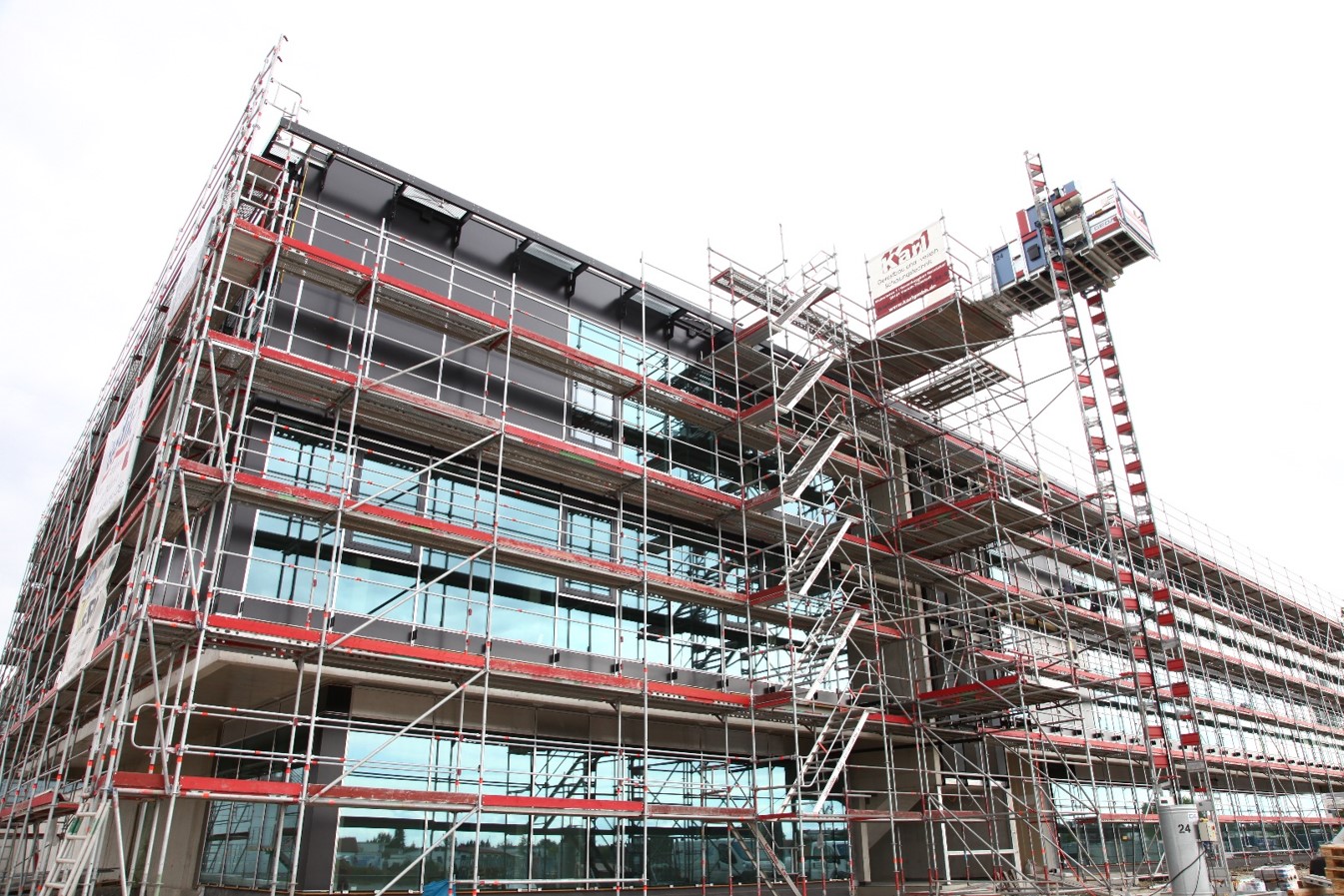 LAYHER has revealed it is adding a new system to its range that will 'simplify and enhance' façade scaffold installation.
The company's AGS system features a post and guardrail design which is completely independent but can also interface directly with the Layher Allround design – with the focus on the same key benefits of safety, speed and versatility.
"The AGS system comprises two-metre standards, with integrated Layher rosette connectors to which a guardrail is attached," explained Layher's UK MD, Sean Pike. "Once positioned, the assembly is elevated by hand from the secure lower level and fixed in place via innovative quick-release loading levers. Importantly, these are coloured red to enable a rapid visual check of an entire structure to be made from ground level."
The AGS system standards provide the same loading capacity as their Allround stablemates and, with a choice of guardrail lengths of between 1.57 metres and 3.07 metres, installations can match the full range of Layher's common bay widths. Advancing side protection can also be incorporated while a structure can feature both external and internal protection throughout.
"As with so many of our recent developments, the AGS system uses lightweight materials, which not only aid the manual handling process but also, because of its dimensions, help to optimise transportation and storage," Sean Pike added. He pointed out that, once installed, extensions can be readily added, regardless of the existing structure's layout.
A key benefit of the range of Layher's system designs is said to be the interchangeability of specific components, and this latest development is no exception.
"Bracing components, such as Allround Ledgers, or diagonals, as well as U-shaped transoms can be fitted in the normal way as a result of the AGS standard having rosettes that will line up at the decked level," Sean Pike added. "This enhances the system's independence enabling the user to react flexibly to requirements that may arise on site. At the same time, all other Allround components, for example brackets and stairs, can become part of an AGS installation."
Layher highlighted the role played by continuous equipment innovation – much of which has been inspired by customer feedback – in its success over many years, and places the new AGS system in the same spotlight.
"We are fully committed to optimising the safe and efficient use of scaffolding, access systems and temporary protection across all of the markets that we serve – from construction and rail to petrochemical processing and road building," Sean Pike said. "The design characteristics and user benefits now available with the new Layher AGS system design will be fully recognised in this context by all our users."