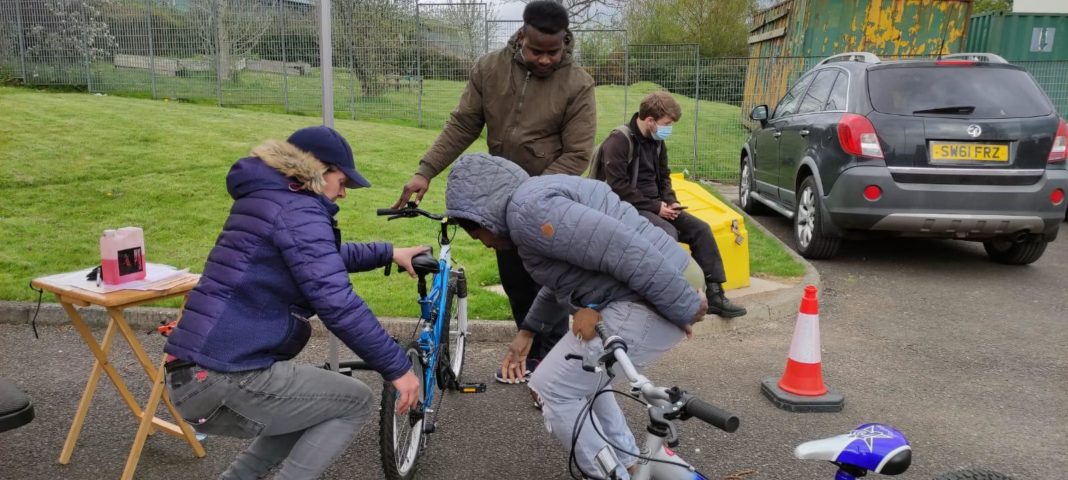 WELLHOUSE Housing Association (WHA) is working in tandem with two local Glasgow organisations to carry out free cycle repairs for residents.
WHA is being supported by a partnership between Easthall Residents Association (ERA) and Urban Fox Programme to create a pop-up bike repair hub where residents can bring run down and disused bikes to be repaired by qualified bike engineers.
The initiative will benefit in £1,000 of funding from WHA, which will allow for bikes to get a new lease of life, while also creating a donation point for people who wish to gift any bikes they no longer have use for.
Both ERA and Urban Fox invested in training their staff and volunteers to achieve Gold and Silver Velotech mechanics certificates. The skilled team will repair and replace parts, as well as giving the bikes a clean and shine before it is handed back to its owners. Donated bikes will also undergo a complete refurb before being gifted back to the community.
The community project, which runs every Thursday 12-4pm in WHA's car park, will also be engaging with young people in the area who are interested in learning about mechanical engineering. Urban Fox and ERA will be offering training opportunities to aspiring mechanics who want to improve their skills and understanding, guiding them through the process.
Darron Brown, chairman of WHA, said, "It's fantastic to be working with other organisations which share our ethos of putting the health and wellbeing of our residents first.
"This type of project not only brings the community together but highlights the opportunities out there for our young people and gives them the opportunity to get out and have some fun after such a challenging year for everyone."
Andy Gilbert from ERA, added, "The work which our partnership between ERA and Urban Fox does is outstanding. Bikes which anyone would have written off before are coming out almost brand-new.
"It's important to us all that everyone in our communities have the same opportunities and resources as anyone else and this bike repair hub is doing exactly that."
The bike hub will run every Thursday 12-4pm until 8th July 2021.
To book your repair contact 07832616824 or visit the Urban Fox Facebook Page – https://www.facebook.com/Urbanfoxcyclehub/