TEMPORARY infrastructure used to encourage physical distancing in Glasgow city centre has been upgraded to allow for a more 'welcoming' look and feel.
It has seen water-filled barriers previously used at George Square be replaced with stone planters and greenery, alongside the introduction of more benches.
Further to this has been new surfacing applied to the roads immediately adjacent to the square, with further work scheduled in the coming weeks around the nearby St Vincent Place and Queen Street.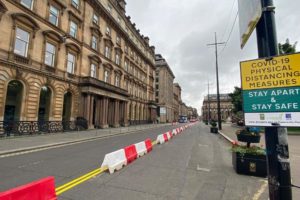 Glasgow City Council said, "Whilst these new measures remain practical as a Covid-19 suppressant, their softer, greener appearance offers a more pleasing look whilst also working to support business recovery as people return to our city centre."
The work comes as part of the Scottish Government's spaces for people initiative, which was introduced at the onset of the pandemic to allow local authorities to make adjustments to towns and cities to ensure that residents could walk, run and cycle safely distanced from others.