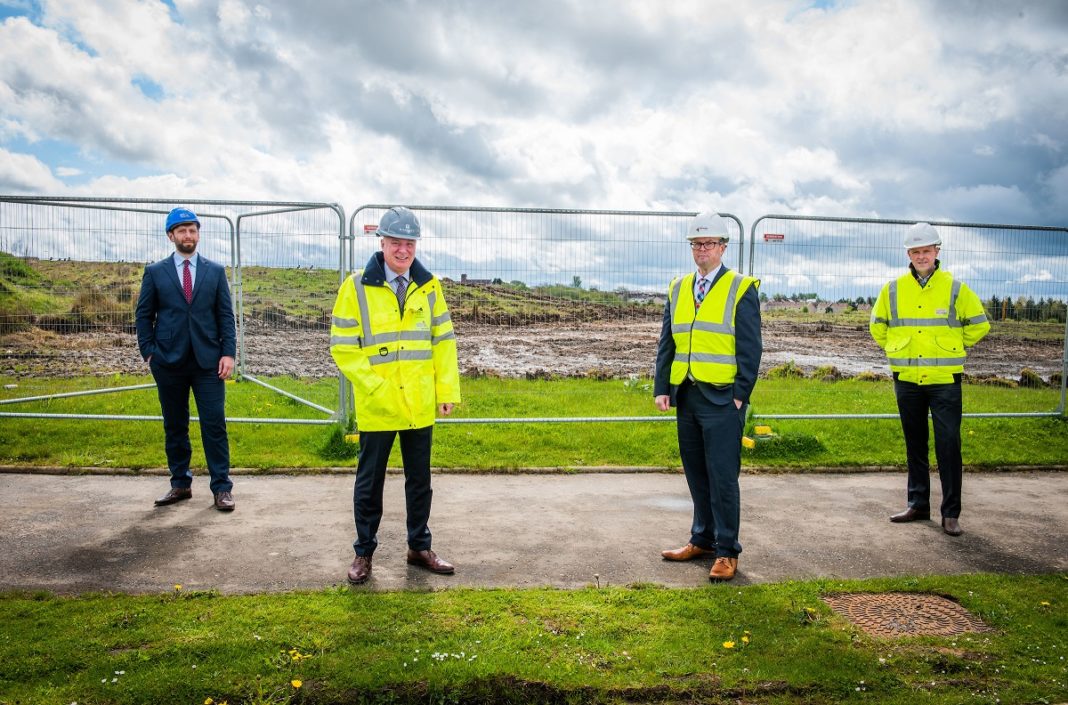 TAYLOR Wimpey West Scotland and Barratt Homes West Scotland have commenced construction of 638 new homes at Torrance Place in Holytown, North Lanarkshire.
The work signals phase two of the master plan at Torrance Park. It will see the build of two, three and four-bedroom homes alongside a small neighbourhood retail centre together with associated infrastructure, enhanced landscaping and a central village green and play park.
Taylor Wimpey will construct new homes within the west parcel of its next development first, which will consist of 106 new homes, thereafter work will follow on the east parcel of land to provide around 242 new homes. The housebuilder will be developing a range of two, three and four-bedroom homes in a variety of styles and sizes to appeal to a wide range of customers.
David Blair, managing director for Taylor Wimpey West Scotland, said, "We are very pleased to have acquired further land as part of our ongoing commitment to the delivery of more homes in this thriving new community at Torrance Park. This is a flagship development for our business, which cements our commitment to the wider North Lanarkshire area, and our pre-construction work within phase two is already underway."
Barratt will be delivering 290 new homes from both its Barratt Homes and David Wilson Homes brands, which will consist of a variety of homes ranging from three-bedroom terraced housing suitable for smaller families to spacious four-bedroom properties, each of which have the firm said have been 'sensitively' designed to complement the location's natural surroundings.
David Scott, managing director at Barratt Homes West Scotland, said, "We're extremely pleased to be starting on site at Torrance Park, which will not only deliver fantastic family housing in an attractive and location but will also make a timely contribution to the local economy. As a North Lanarkshire based company, this development underlines our continuing commitment to building in the area and we are looking forward to enhancing what is an already vibrant community with our development of high-quality family homes."
As part of a Section 75 legal agreement with North Lanarkshire Council, both developers will be making financial contributions of over £3.2million towards meeting local primary and secondary education requirements, as well as the provision of new footpath links providing pedestrian connectivity to Holytown.
Des Murray, chief executive of North Lanarkshire Council, commented, "This new phase of Torrance Park is an exciting new development for Holytown and fits with the council's ambitious plan to create vibrant communities across North Lanarkshire through revitalising towns and spaces and building modern, well-connected housing solutions that will truly make places where people want to live.
"This site, along with other developments across the region, is helping to drive economic regeneration and growth, investment in the area, as well as creating local jobs. Fundamentally, contemporary housing has communities at its heart and we work with housebuilders to create places where schools and services are nearby and families thrive, making North Lanarkshire the place, to live, learn, work, invest and visit."
The proposals for Torrance Park have been designed to 'sensitively' respond to its rich environmental setting – with pockets of green space throughout the development, as well as a large central village green that will provide an equipped play area as well as a multi-use games area (MUGA).
David Blair added,"As well as an impressive range of new homes from Taylor Wimpey and Barratt Homes, Torrance Place will provide a range of economic benefits for the local area, which includes supporting more than 100 direct and indirect jobs per year, as well as the attraction of new customers to local businesses.
"This is a great addition to Torrance Park as well as the wider local area. It complements our existing developments at nearby Bargeddie and Ravenscraig, as well as new sites that we hope to launch soon at Carnbroe and Glenboig."
David Scott continued, "Barratt has a strong track record of delivering homes in North Lanarkshire, having built over 1300 homes across 18 sites in the last 10 years. We're excited to be launching this new development at Torrance Park, which will complement our existing developments at Carnbroe and Bargeddie, as well as our new development in Stepps where we will be launching later in the year."