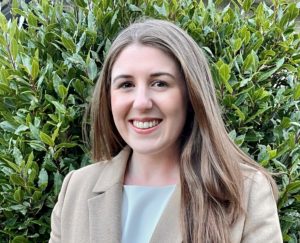 A member of the land team at CALA Homes (North) has been recognised with a commendation for her application to qualify as a chartered town planner.
Katie McGill is just one of six applicants to the Royal Town Planning Institute's assessment of professional competence to have received the accolade out of more than 400 applications in total.
The assessment requires candidates to produce a written submission demonstrating that they have obtained the skills and competencies of a professional planner in order to qualify as a chartered town planner.
Assessors nominate the best submissions for chartered membership, before the membership assessment advisory panel judges those nominated and awards commendations.
Katie's application comprised of four elements; an overview of her relevant planning experience; two case studies which demonstrated she had met the necessary competencies required; a professional development plan focusing on future career development and a reflective journal, providing a full log of work gained over a two year period.
Katie said, "The submission requires a considerable amount of work on top of a full-time job, so I am delighted that my hard work has paid off and the many late nights before I submitted my application were worth it.
"My application was an opportunity to showcase the projects I have been involved in, focusing on my own contributions to each one. The submission does require a lot of reflection and critical analysis and I do feel proud of how I have developed since I started with CALA in 2018."
Katie graduated from Heriot Watt University in 2018 with a dual accredited, first class honours degree in BSc urban planning and property development. After graduating, she moved from Edinburgh to Aberdeen to join CALA Homes (North) as a land graduate and has since been promoted to land buyer.
She continued, "I have been very fortunate to have been involved in a wide range of projects at CALA, working alongside an experienced team of professionals who have encouraged me in my development and supported me in gaining considerable experience of the housebuilding industry.
"My responsibilities range from site identification and assessment, stakeholder engagement and community consultation to the preparation, submission and management of live planning applications and the progression of sites through the local development plan process."
Ross Maclennan, land director at CALA Homes (North), added, "Katie is a very talented member of our team and put a tremendous amount of effort into her application. Her commendation is very well deserved and we are pleased her exceptional work has been recognised.
"With only a few applications out of hundreds receiving a commendation, Katie should be very proud. She is a real asset to our team."