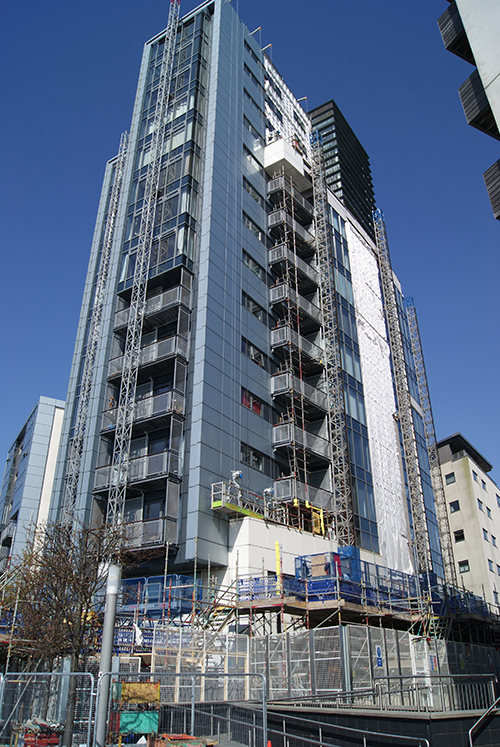 LYNDON SGB is providing a comprehensive access package on a project to remove and replace ACM cladding panels from residential apartment blocks at Glasgow Harbour.
The firm engaged with principal contractor Vinci at the planning stage and has been on site since September 2020. Taylor Woodrow commenced building the development in 2003 and appointed SGB as the access provider in 2004, with both scaffold and Mast Climbers. Lyndon SGB said this was an advantage when tendering for the works to Vinci as they could demonstrate a good knowledge of the project.
There are three main requirements for Lyndon SGB. The company is providing load bearing scaffold solutions from the lower car park to support masts as well as protection walkways. The Mast Climbers are affording the high-level access, making this a Lyndon SGB scaffold and mast climber joint venture. Another aspect of the access requirement is cradles, which Lyndon SGB has partnered on with another national provider.
The work environment presents several challenges, including working on a live building occupied by residents; the public walking in and around the River Clyde Walkway; and maintaining vehicular access to private underground parking areas. Due to this there is a heavy reliance on both design and health and safety.
A spokesperon for Lyndon SGB said, "Both Lyndon SGB and Vinci Construction UK have taken a collaborative, partnership approach to this project, building a professional relationship based on mutual respect and trust, operating a culture of teamwork, openness, and support, in which everyone is encouraged to strive for excellence."